We are happy to announce that DX Sales CRM has been released to the public! Click here to download it for free.
DX Sales CRM is a core CRM (Customer Relationship Management) platform that allows small and medium-sized business owners to manage their internal transactions within their WordPress dashboard.
Here's a short, yet detailed, guide about our CRM and how WordPress users can support their business needs and organize their growth, business development and sales process better.
Why Do I Need a CRM?
Customer Relationship Management platforms are used for tracking and analyzing interactions within the business world. This includes various activities with your connections – partners, customers, users, or other important contacts accordingly.
While you may be working with a limited number of people on a day-to-day basis, there are probably other contacts that you need to stay in touch with every couple of months or even just once a year but it's essential to keep all communication in one place for analysis and follow-up purposes.
As your business grows, those contacts will grow with it. For instance, a small brick and mortar store has competitors, distributors, delivery folks, important VIP customers and so on. That business can use a CRM in order to keep track of all contact (along with a communication log over time), follow-up whenever needed and analyze successful "Project" over time.
A foreign language school also communicates with various groups of important people. From teachers through sponsors, venue owners, businesses paying for educating their staff, and so on. Keeping all of these in the same system means a bird's-eye view on the landscape, finding opportunities, connecting with important contacts, negotiating deals, offering bonuses to the loyal businesses and so on.
What Does DX Sales CRM Include?
DX Sales CRM is the foundation of our CRM framework. While we have a dozen extensions (and growing) for different add-ons, the core plugins available for free on WordPress.org supports three main types of information:
Companies – the organizations that your business is connected to. For example, if XYZ Inc. is outsourcing services to you or reselling through you, this would be a Company record in our CRM. A Company allows for storing a main peer (Responsible person), company type, industry, number of employees, and a few additional fields.
Customers – when working with XYZ Inc., you are likely interacting with one or more people in the organization. Each person can be stored as a Customer. The name is a bit limiting but in the end of the day we're unifying all parties as Customers, be it Partners, Resellers, Clients or anyone else. Even though Allison may be a Customer working for XYZ Inc. in the Marketing Department, and you can connect her to the Company above with designated field (contact details, referral, contact date, initial amount from the first deal together). Jeremy can be a Technical Support at the same company whereas other fields are filled in as well.
Projects – working with companies and specific people there, a transaction is defined as a Project. Projects are connected to Companies and Customers, and allow for adding start and end date, duration, whether it's an ongoing thing, or not, currency, status of the transaction and more. For example, XYZ Inc. may be a Wood warehouse selling three different types of wooden items to you, each defined as a separate project with time lines, responsible people and status.
In addition to the three core components there's a designated custom dashboard available as well – combining all data types, an activity log and a set of reports. The dashboard supports a quick addition of entries with a simple pop-up that allows entering multiple entries without going through the long and tedious creation with the default WP admin workflow. Moreover, connected projects, customers and companies can be created within the metaboxes of the edit screens, i.e. you can create a new Company once connecting a customer to a project right from the metabox!
Those are still being improved upon but you can, for example, track the latest changes occurring in your CRM from you and your sales lead, and list the most profitable customers, biggest deals or highest number of transactions.
How Was the Project Started?
We've started the CRM internally in late 2014 based on our needs. There are hundreds of CRM solutions out there, but they weren't flexible or streamlined enough for the type of services we sell at DevriX.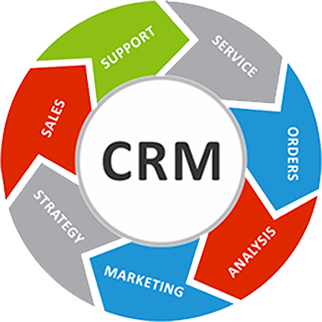 Some are incredibly complex and heavy, and include a ton more things that we don't need (such as tracking phone calls, recording conference engagements and quite a lot of odd features that we find non-applicable to our business). Additionally they weren't solving the main problem we were aiming for, which is connecting deals to people and their companies. This is now the core of the DX Sales CRM. Some of our former clients were looking for eRPs or CRMs before, so we had the business know-how required for the core philosophy of our CRM toolkit.
While we haven't been developing it constantly for the last 2 years, we've spent over 9 months of active development toward the platform in use right now. This is why we have a dozen extensions for reminders, sending bulk emails, importing contacts from Google, email automation add-ons and such that we'll be extending and releasing in our DevriX Shop in 2017. The Core platform was always meant to be free for all, since it solves a major problem for every business who is unaware of their list of important contacts, loses their details, or needs a more detailed and professional report of their communications (outside of the good old Excel).
We did a couple demos at conferences and received over 20 requests for beta testing. Most of our testers started playing with the system and liked it, which was why we focused on the SaaS model for a few months before putting it on hold for the time being. Reverting back, refactoring the core toolkit and here we are – officially launching the free version.
What Are the Pros and Cons of DX Sales CRM?
Most CRMs out there are great in certain things and fail in others. This depends solely on each business' needs, the industry and the KPIs to be tracked.
Some are too simple and lightweight while others are overly complicated. Some are enterprise-based, others are startup-adapted and friendly. Some cost thousands a month, others are freemium.
DX Sales CRM is a lightweight core that you can bundle inside of your WordPress website, and keep your data there. It's free for use and it's Open Source. You can adjust it, and we've added a number of filters that you can use in order to extend some dropdowns or adjust some of the core logic (or build additional extensions as we do ourselves).
One of the things we love here (and the reason it was built on top of WordPress) is that you can combine other WordPress plugins in order to extend the functionality.
DX Sales CRM can be combined with most Custom Fields plugins so that you can add extra fields for tracking more data for your customers or companies, which is awesome! You can set up your authentication as you see fit, hide the admin menu items that you don't use, and play with the platform by integrating other solutions working in the WP context for standard custom post types.
Moreover, with WordPress 4.7, you can leverage the standardized WordPress data and utilize API endpoints that would fetch data and transfer it back-and-forth in case you want to detach your CRM system from your core website.
Here's a short video about some of the main features – your first walk-through of the platform: