Shareable Content is the "Black Gold" in the "Web-Market" and the content marketers look for clues to dig and find something to hit the jackpot. Creating interesting and shareable content can be difficult, especially for the lazy content writers who eventually disappear from the scene. Whether you are a lazy content writer or an active one, you will realize it in the middle of this post.
To come up with a really interesting post, a content marketer must act like a chef. The appropriate time period, the right ingredients and the perfect moment to add those ingredients – the right chef knows everything. This post is all about knowing about the art of blogging.
Coming up with an idea for the content is good, but your audience's taste is far more important. If you're serious about your blog's popularity and sustainability, you won't be bragging about your stuff all the time without considering who your reader is, or whether anyone wants to read your posts at the first place.
It takes a special set of skills to come up with something really interesting, attention-grabbing and worth sharing. So, before you post anything, you should have enough pieces of evidence that it will help people to relate to it. See, how this article about Woman's Poster to Track a Mystery Man got noticed as the poster went viral.
People have different psychic and they get attracted to things differently. You need an expert's advice to gauge their attention. For example, serious readers don't care too much about images; all they want to read is a perfectly articulated content which gives something to act upon.
Unfortunately, the majority is different. Most of the time, most informative and well-researched articles go waste while those with added elements of attraction have been shared by the readers.
In fact, readers seldom read posts all the way down. This is what Sujan Patel thinks; he says,
It's one thing to share your thoughts and feelings on a topic, but it's an entirely different thing to do it in a way that makes a difference to your readers and your business
It's as simple as asking a picky eater to eat something you prepared for the first time. If you know your audience, you'd definitely know about their interest. The easiest thing to do is to come up with a really interesting topic that has something for them. Remember, everyone wants something, so make sure your topic must encourage them to read further.
The best thing to do is to read the post yourself and ask:
What is in it for me?
Are all the sections perfectly synchronized?
Is there anything irrelevant?
What are the most boring points readers wouldn't want to read?
What is the difficulty level of the posts?
Often, people don't read too far up to the point where they find your posts interesting. Here's a reason – it is a human nature that people develop an interest in things that grab their attention them and encourage them to come closer, and that's where interest is developed.
Julie Neidlinger beautifully incorporates fictional pyramid with blog posts and describes how you can actually make readers want to read your post from top to bottom.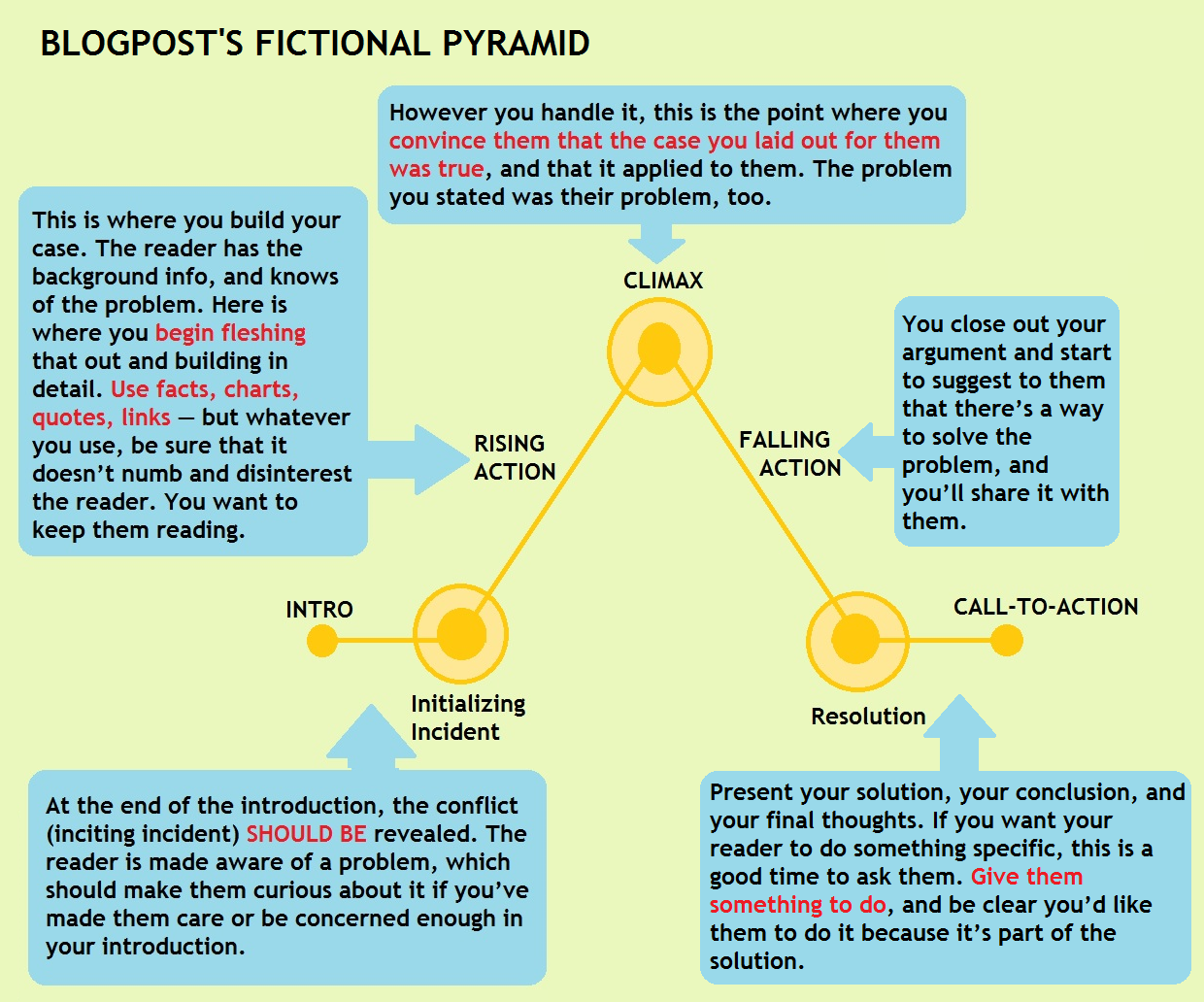 This image shows how you can start a post, move ahead elaborating your point, and summing it up with something your thoughts about the problem. But there is a hidden message as well.
What Makes Posts Interesting and Worth Reading?
To have a successful blog, web research plays a vital role. Successful blogs always publish what people like to read and keep coming back for more.
For years, content marketers have been trying to find the right answers to their concerns:
The type of emotions invoked by the most popular articles
The types of posts that received massive shares
The appropriate length of article readers like to share
Whether they should add images in their posts or not
How necessary is it to add the element of trust in posts?
Is it appropriate to have an influencer share your posts or not?
Tips to make people share posts that were published weeks ago
A research of over 100 million articles answers these concerns quite effectively and found 10 best ingredients for successful posts.
1. Long Form Content vs Short Form Content
Today, people use mobile devices to share content. It indicates that people will share short content more than lengthy content. The research says something else.
After analyzing the top 10% most popular articles, long-form content has the upper hand in terms of sharing. In fact, the content's length seems directly proportional to the number of shares, as indicated by the chart below:
Perhaps, now you understand why we used the word, "Lazy Content Writers" at the start of the post. The chart indicates that people like to share informative, in-depth, and well-researched articles.
The research stretches further to include The NY Times analysis on articles that were emailed. It indicates that longer articles are shared more often than shorter ones.
What Makes a Longer Post More Likely to be Shared?
The fact that the Internet is stuffed with short-form content that offers limited information about the topic, shorter posts will include you in a larger group where your chances of success are very limited. Most short articles aren't even worthy of reading because they don't go into the topic at all. That's why readers rarely pay attention to articles below 1000 words.
So, if you're writing short-posts, try and add more research and create an epic one.
2. Posts With Images vs Posts Without Images for More Facebook Shares
Do you really think visually compelling images are the part of social posts only? This is perhaps the most important aspect that differentiates a good blog post from an exceptional one. If you think that Facebook means posting images only, this chart will change your perception.
If we talk about the number of articles shared on Facebook, the research indicates that:
Out of every 100 articles shared, Facebook dominates with a massive average of 92.9 articles.
On average, out of every 100 articles shared, articles with at least one image exceed those without image by an impressive 36.9.
It also indicates that if you include an image in your post, the probability of your content being shared on Facebook will increase twice as much as it is for the content without any image.
The research did not take into account the quality of images and their relevance with the shared content. It includes all the articles that have images in the body text.
The research also analyzed articles with Facebook meta tags (a specific preview image of your blogpost).
Off note, if you don't know how to add meta tags for Facebook, implement the following tag in you article's <head> section:
<meta property="og:image" content="http://example.com/image.jpg" />
The image included in the meta tag will appear on Facebook post when anyone shares your article.
Going back to the topic, research indicates that articles with meta tags were shared more than the ones that did not have them as shown in the following figure:
3. Image-Based Posts Get More Twitter Shares
Articles have also been shared on Twitter and the same theory which worked for Facebook proved true for Twitter too. The research indicated that posts with Tags were shared more frequently than those without them.
Following figure points that articles with Twitter thumbnail were shared twice more than those without them.
4. What Type of Emotions Worked Best?
10,000 most shared articles were chosen and were classified according to the emotions they invoked such as sadness, joy, awe, anger, laughter and amusement etc. The results are shown in the following figure:
It is obvious that the majority of people shared inspirational articles, followed by those with laughter and amusement (entertaining) respectively. On the other hand, articles that invoked anger and sadness were shared the least.
The mixed feeling of respect and wonder (or fear) is what readers like to read and share the most. If you're able to hook your audience with surprise and have them wondering "what's next" then you are just on the right track – especially when we talk about social media. The social media platform you are working on must ideally be like bait, enticing and luring readers to click where you want them to.
In most cases, their click would land them to your website where you can target them with offers, promotions, new product etc. What is worth noticing about the picture above is that green part (others.) You can't simply ignore it – this is where your knowledge about your target audience would come into play.
Why you should focus on awe, laughter and amusement?
The New York Times published a study titled, "The Psychology of Sharing." It is based on the question as to why people shared their stories online. 2,500 people were asked and they provided the following reasons:
To bring entertaining content online
To define themselves
To create and strengthen relationships
To feel involved
To share an important cause and event.
The tops 3 reasons perfectly match with awe, amusement and laughter.
Narcissism and Quizzes
One more reason why people shared topics was narcissism. In fact, out of the top 10 most shared articles top 8 were quizzes because they show how competent you are. What Career Should You Actually Have? topped with over 18 million views.
So,
Work on creating entertaining post.
Occasional quiz will also help you increase your blog readers more quickly.
Controversial articles also help in increasing the visibility of your blog
5. People Like To Share Infographics and Lists
Content format is another aspect which should be considered while publishing an article or blog post. Different contents included in the research are as follows:
Lists
How to articles
Infographics
Posts starting with "What"
Posts starting with "Why"
Videos
Results can be seen in the following chart:
All content is the benchmark and is the average of all formats of content that were shared by the people. You can easily identify that articles bearing Infographics, List and "Why" went above average. In fact, infographic has been by far the most shared content.
It implies that people like to share the content that is informative, has visuals and relevant sources to back that information. Infographics are easy-to digest and they also give a brief summary of all the information discussed in the topic.
So, you can do much better if you add charts, tables and visuals in your post.
6. 10 is Always Popular
Top 10 lists are undoubtedly the most shared contents on the web with a massive average of 10,600+ shares. They are shared 4 times more than the second most shared list number 23. Number 16 is on the third spot and 24 stands 4th. Imagine how popular your list post can be. See this for yourself.
7. Trustworthiness Is Important
Here, articles with byline and bio are compared with those without them. With the exception of Facebook, the results on other platforms suggested that trust is an important factor in sharing the articles. Overall, articles with byline and bio were shared more.
It shows that we tend to share articles from trustworthy source on Google+, Linkedin and Twitter, in order to build and maintain our thought leadership.
8. Multiplier Effect on Articles That are Shared by Influencers
Research analyzed the impact of influencers on your article. Influencer is the person whose tweets are being retweeted twice on average. For example, Noah Kagan is an influencer with an average of 4.5 retweets per tweet. Which means if he tweets 100 times, he will get 450 retweets.
The research quantified the impact of influencer who shares or tweets about your article. If you increase the influencers, the impact will multiply. The research indicates that having one influencer share your article can increase the number of social shares by 31.8%. And it will increase steeply if extra influencers share your post.
You can grow influencers before writing your post:
Find the most popular post similar to your idea. For instance "conversion optimization"
See how many influencers shared it. Click "View Share"
Now, you can reach out to them and let them give their input in your work.
9. Re-promoting an Old Content
The percentage drop increases day by day as your post grows older. On average, if an article is posted 3 days ago, by the end of third day, number of shares would drop 96%. After a week from launch, the number of shares will drop at least 86% as compared to the first week, for next three weeks. But is something that can be taken care of through re-promotion.
Evernote published a post on March 10, 2014. After a week, the post had managed to gather only 23 shares on Facebook. Contrastingly, the number of shares grew to 181 after a month. The post was re-promoted on March 21st, 2014 which led to more shares.
10. The Best Day to Publish a Post
According to the research, the best day to publish your post is Tuesday. On Tuesday, the total number of shares exceeds 50 million shares. On the other hand, Saturday is the worst day with an average of around 15 million shares in total.
Conclusion
To create an engaging content, your knowledge isn't the only thing you need. There are quite a few things equally important.
Inspire people with awe, laughter and amusement
Attract people by appealing to their narcissistic side
Make a habit of creating long-form content
Create list posts and add infographics in your posts
Make sure your posts have a byline and bio to inspire trust
Your post should have the right balance of text and visuals
Don't forget to implement metadata
Reach out to the influential people before writing your content
After publishing your article, keep an eye on it and re-promote it regularly
Publish on Tuesday to get maximum shares