If you think LinkedIn is the only place to find industry professionals, you're sorely mistaken. Facebook has a wealth of users in nearly every field imaginable, and with its powerful ad targeting options, you can make sure your message gets to the right people.
However, you need to have the right strategy in place before investing in Facebook ads. Otherwise, you could end up wasting a lot of money on ads that don't give you the results you're looking for.
In this article, we'll give you tips for targeting your Facebook ads so they effectively reach your target audience and help you meet your advertising goals.
But before we dive into ad targeting, let's quickly recap the benefits of Facebook for B2B advertising.
Why Choose Facebook for Your B2B Needs?
Most business-to-business (B2B) companies are familiar with LinkedIn as a way to reach out to potential customers. However, LinkedIn is not the only social media platform that can be used for B2B marketing. Facebook can also be quite effective, provided that you know how to target your ads properly. Convinced? Consider these three reasons why Facebook should be a part of your B2B marketing strategy:
Billions of Users
More than 2 billion people log onto Facebook every month, making it one of the most popular social media platforms in the world. This means that your audience is likely already using this network to some degree.
If your goal is to expand your brand's reach, then you'll want to explore the advertising possibilities that Facebook has to offer.
Meticulous Targeting
Another big selling point for Facebook ads is the targeting options that businesses can take advantage of. You can define your target audience by factors such as job title, location, company size, interests, and even specific interactions that they have had with your business in the past.
This allows businesses to create laser-focused ads, delivering the right message to the right people at the right time, and making it more likely for users to take action. So, if you're looking for a more targeted approach to your marketing, Facebook ads could be the answer.
Cost-Effective
If you're a small or medium-sized business (SMB) owner, you know that being resource-strapped is part of the gig. However, dealing with resource constraints doesn't mean that effective marketing is out of reach. Facebook ads can offer an affordable way to solve under-resourced SMBs' marketing woes.
With Facebook ads, you can get your message in front of your target audience without breaking the bank, whether it's a product launch, a webinar, or a promotion. That's because Facebook ads are very cost-effective, with businesses only paying when someone clicks on their ad, much like other pay-per-click advertising platforms. This charge type safeguards your ad spend and ensures that you're only paying for results.
How to Use Facebook Ads for B2B Success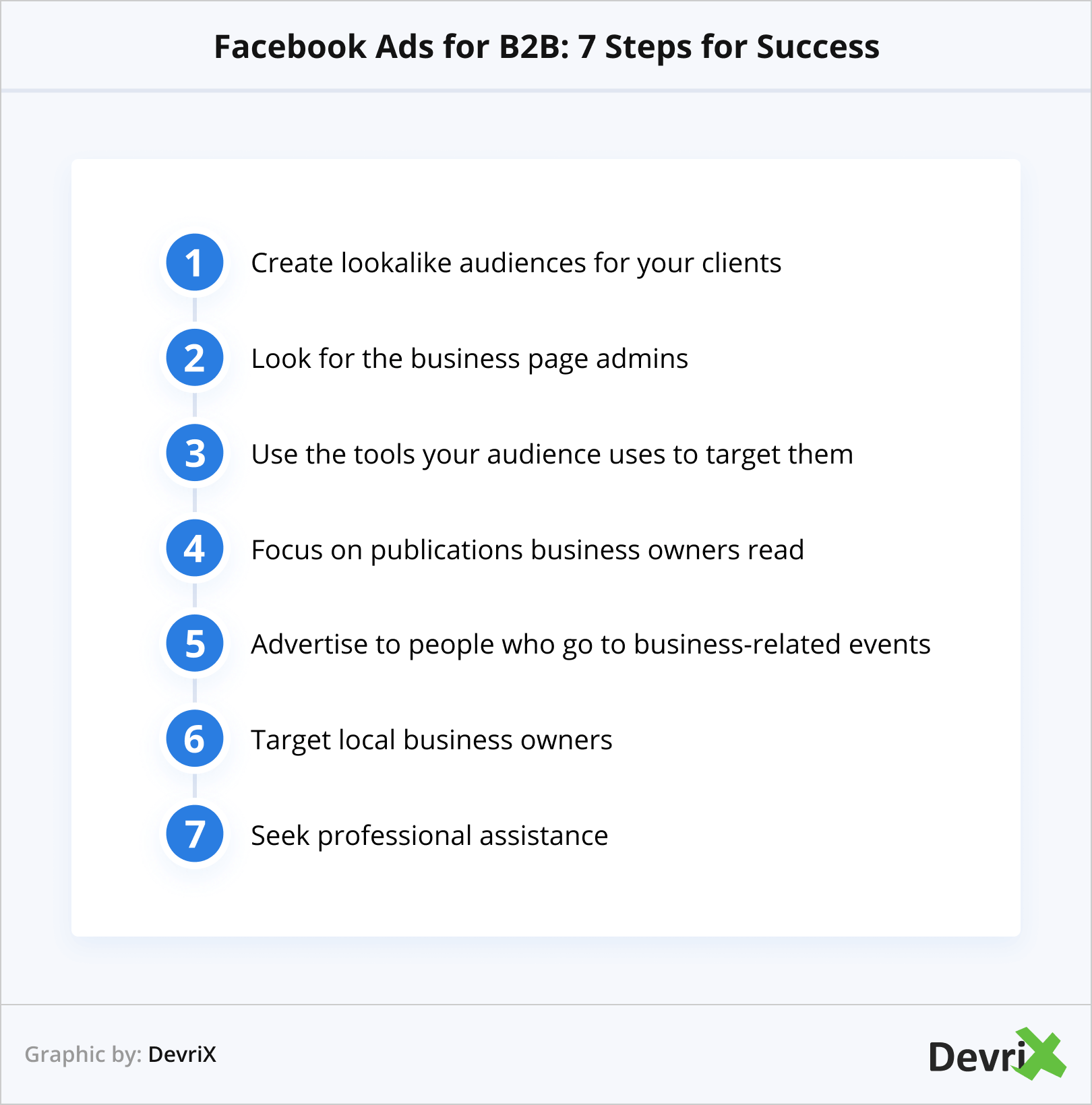 Despite the many benefits, some B2B companies continue to be skeptical of Facebook as a platform for advertising. This may be because a B2B buyer's journey is usually longer and more complex with many decision-makers involved, unlike a B2C buyer, who is usually the sole agent.
So, a well-designed Facebook ad may be enough to attract interest, but it takes more than this to make someone part with their money, which is why some businesses give up on Facebook ads too soon.
However, while Facebook may not seem like a natural choice for B2B marketers, the platform can be quite effective in promoting your brand and yielding qualified leads.
Of course, those leads won't necessarily turn into paying customers right away, but that doesn't mean you can't harness Facebook's potent targeting abilities to complement your existing marketing strategies.
In fact, it may be just what you need to take your business to the next level. So don't write Facebook ads off just yet — they may have more potential than you think.
Get started with these Facebook ad targeting tips:
1. Create Lookalike Audiences for Your Clients
You can leverage your database of warm leads and create a lookalike audience on Facebook. Lookalike audiences are people who share similar characteristics to your current clients, making them more likely to be interested in your product or service.
This feature uses customer data to find commonalities between your target audience and your existing followers and user base, helping you reach more highly qualified users that you wouldn't have been able to connect with otherwise.
2. Look for the Business Page Admins
To get the most bang for your buck, don't just target any page admin — target business page admins. More often than not, these admins are the decision-makers in their respective companies. By targeting them with your ads, you're more likely to reach your target market. Just enter "business page owners" into the detailed targeting section and Facebook will do the rest.
3. Use the Tools Your Audience Uses to Target Them
You can use Facebook's interest targeting feature to zero in on your audience through the tools and software they're interested in. For example, if you want to target businesses in the marketing industry, you could select people who have shown an interest in marketing tools such as Hootsuite, Hubspot, or Buffer. Or if you want to target businesses in the eCommerce space, you could choose people who have shown an interest in Shopify or Magento.
4. Focus on Publications Business Owners Read
Another way to reach your ideal customer is to target the magazines and online publications that they might read. For example, if you're targeting small business owners, you could target readers of Forbes or Entrepreneur magazine.
For best results, look for publications that are specific to the type of businesses you're targeting. You can then search for these on Facebook ads manager and select people who express an interest in them.
5. Advertise to People Who Go to Business-Related Events
Your ideal clients may attend seminars and other popular events. You can use Facebook's events targeting feature to choose people who have attended (or expressed an interest in attending) specific business networking events.
For example, if you want to target startup business owners, you could choose people who have attended or are interested in attending events like TechCrunch Disrupt.
6. Target Local Business Owners
You can take advantage of Facebook's geo-targeting capabilities to reach professionals and other business owners in your area. All you have to do is edit the location settings in your Facebook ad sets to select a certain geographic area to target by zip code, city, or state. You'll also have the option to exclude certain locations if you don't want your ad to be shown there.
7. Seek Professional Assistance
If you're still unsure about creating and targeting your Facebook ads, consider working with a professional agency.
Partnering with an agency can help you to make the most of your ad budget and get the best results for your business. A good agency will have a team of experienced professionals who can help you to create and implement an effective Facebook ad campaign that meets your business goals.
Make sure to do your research and choose an agency that you can trust. And if possible, prepare a comprehensive questionnaire and have a face-to-face meeting with the agency before committing to work with them, similar to the onboarding process agencies make new clients go through. This will help you to gauge whether they're a good fit for your business and will give you a clear idea of what to expect from them.
Some Examples of B2B Facebook Ads for Inspiration
Now you know how to target your ads for maximum impact. So, let's look at a few examples of B2B Facebook ads that have been effective in generating desired results.
Webex by Cisco's Brand Awareness Campaign
Differentiating your brand in a cluttered marketplace is essential for long-term success. That's why Webex by Cisco turns heads with their emotionally driven video ads in Facebook's In-Stream Reserve placement. As a result, standard ad recall increased by 6.8 points.
MVF's Campaign to Boost App Downloads
The customer generation platform, MVF, ran Facebook video ads with the objective of driving downloads of their new app. Thanks to an effective combination of creative video and laser-focused targeting, they saw a 4.7X increase in conversion rate and 1,455 additional app installs.
Bluehost's Campaign to Promote Its New Services
Bluehost is a web hosting company that powers millions of websites worldwide. They partnered with Facebook to raise awareness for their new web solution services. The campaign used Facebook's in-stream video ad format to showcase the different services offered, ultimately leading to a 3.2-point lift in campaign awareness and a 3.6-point increase in purchase intent among viewers.
Bottom Line
If you sell to industry professionals, you know how challenging it is to reach your target market. Luckily, Facebook ads come preloaded with robust targeting features to help you reach the right audience.
By taking advantage of these tools, you can create highly-targeted ad campaigns that will be sure to generate results. So what are you waiting for? Get started today and see the amazing results for yourself!