Now that WordCamp Sofia 2018 is history, we may conclude that it was an exceptional experience for Team DevriX in several ways – we counted up to nine. Read the stories and the feedback from the team members who attended to see why this camp was bigger and better than ever WordCamp for the team.
The weekend, 24-25 November, was WordCamp Sofia 2018. On day one, the Conference was held at Arena "Mladost" Cinema. On day two, Cоntributor Day took place at Generator center for design and collaboration.
It is one of the most important events on DevriX calendar. As our CEO Mario Peshev says,
"WordCamp Sofia is a wonderful place to meet other digital activists and WordPress evangelists. Joining community members every year is truly inspirational – seeing how companies evolve year after year!"
A Record Number of DevriXians Attended – 27!
This was the first time that as many as 27 team members attended a WordCamp, and were part of the total 500+ conference attendees. Our team has grown over the last year and that was quite visible at the event.
As always, we were dressed in our branded t-shirts and it was noticed by everyone. "People were asking me, "Where can I get a DevriX T-shirt?", Todor Manoilov (Back-end developer) said, and then pointed out that it was, "because they also wanted to enjoy the benefit of owning one."
"We see you are everywhere!" was the other reaction to the DevriX team, when seen wearing the branded T-shirts.
27? Actually, 28!
It was on WordCamp 2018 that our new team member Dian Tankov was recruited. Here is his story, in short:
"I came from Varna to attend WCSOF and see my friends from the WordPress community. There I reconnected with Stanko and Mario, and I mentioned I was looking for a new career opportunity. They suggested we meet after the Camp at the DevriX office. A couple of days later I was appointed Marketing Relations Manager. The magic had happened, thank you, WordCamp!"
And welcome on board, Dido!
https://twitter.com/DianTankov/status/1069938518640812032
The First WordCamp Ever for 36% of Our Team Members
For about a third of our colleagues, this was their first time ever at a WordCamp. Although, an amazing 55% of the team have been to international events, not only local camps.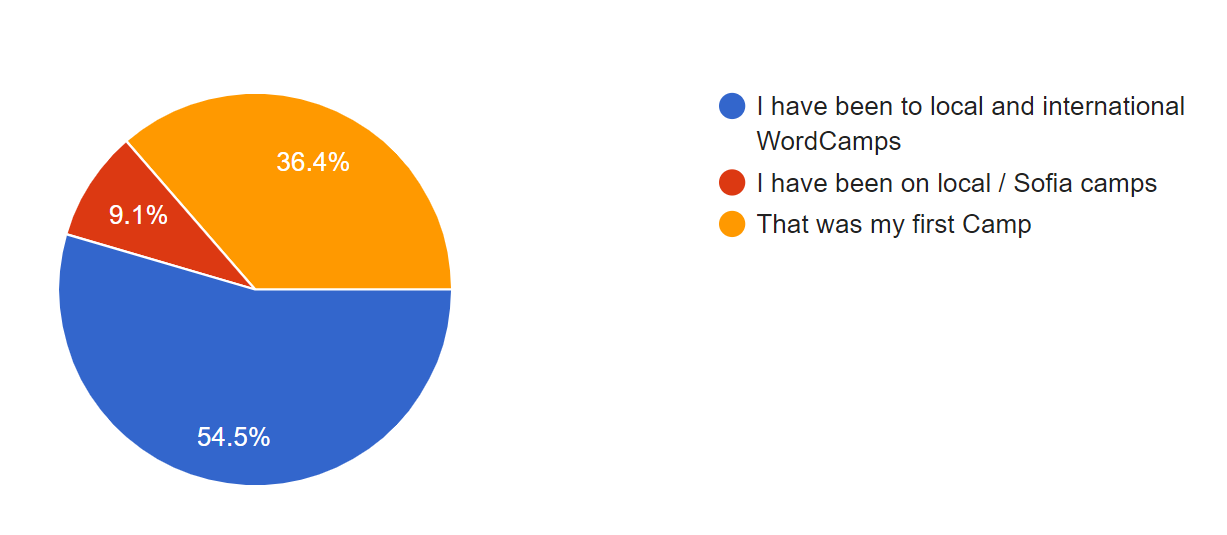 Our teammates, who joined for the first time, shared just how warmly welcomed they felt as part of the amazing WordPress community:
Yulia Oleynik (Project manager):
"As a recently joined team member, I enjoyed the friendly team spirit of DevriX. I felt proud to wear the t-shirt as everyone around me seemed to recognize the company and congratulated me for becoming a part of it. Although it was my first WordCamp, I actually felt like I'd been there before because people were literally jumping at the chance to chat with me without any hesitation, which definitely exceeded my expectations."
For Lachezar Gadzhev (Back-end Developer) it was not only networking but teambuilding with colleagues, too:
"For me, WordCamp was a great and unique experience, I got to know better my colleagues and met new and interesting people that inspired me to become evolved in WordPress development. "
Two Remote Team Members Also Attended
DevriX has a significant number of colleagues who work remotely from all over the world, and happily, the WordCamp in Sofia was an occasion for two of these remote workers to join us. As our Business Marketing Lead Radostina Tsvetkova noted:
"This year I was able to also meet two of our teammates that live in other countries and work remotely. It is awesome to actually see in person someone that you are working with online every day. "
Some of our favorite jokes here start with: "A Bulgarian, Ukrainian, and Macedonian sitting on a table…"

There you go @metodiew @MudrikIvan @TolovskiMartin from team @wpdevrix 😁 pic.twitter.com/9On2IjTlyZ

— Mario Peshev (@no_fear_inc) November 25, 2018
Our Primary On-site Focus: Learning
Although we are a team of more than 50% camp "veterans", the presentations and the opportunity to learn excited most of us. As Vladislav Abrashev (Back-end Developer) concluded:
"I am a back-end developer and the most interesting part for me was to go to as many lectures as possible and learn many, many new things about the way WordPress is developed and all the new technologies that are used in it. It was amazing to see how many people are involved in creating a better WordPress future!"
Our Creative Lead and Front-End Architect Alex Dimitrov was most impressed by the advice on how to better communicate with the team in one of the opening presentations. "I think this will change my daily workflow", he admits.
And Ivelin Djangarov (Back-end Developer) adds: "I liked the fact that the presentations were divided into two halls and you could choose to go to the one that was more interesting for you."
The more informal and humorous presenters – like Aleks Savkovic and Hristo Laskov – stole our hearts and provided engaging discussions. As usual, the camp was a chance to not only listen but also to ask questions, meet in person and get inspired by true WordPress evangelists we all look up to. Some of them even promised to give interviews for our blog, so stay tuned.
The Most Valued Part: Connecting & Reconnecting
For most of us, the greatest advantage of the conference was to connect with people with whom we share the same professional interests and values, or as Ignat Georgiev (Back-end Developer) said, "people who have a passion for WordPress."
That was also confirmed by our HR, Adelina Vasileva: "Finding new friends will forever be my favorite part of camps." And Radostina Kondakova (Junior Back-end Developer) adds: "I met up with some friends and colleagues, that I had not seen for a while."
"Every chat I had was definitely valuable! ", concludes Bojidar Valchovski (Back-end Developer). And Lachezar had a really special moment: "I met a person that I've known from the Internet for 11 years but we had never met in real life."
The camps are a chance to feel the warmth and friendly community spirit and touch base with fellow WordPress enthusiasts and contributors and also meet personally evangelists who are like real celebrities in the WordPress Community. As Yovo Kolev (QA Lead) boasts: "I met a lot of new, crazy people, it was nice to share the experience with them. And I became friends with an amazing presenter and a WordPress contributor, Aleks Savkovic."
We Actively and Massively Contributed: 17 DevriXians Volunteered on Contributor Day
For the more experienced team members, the second day of WordCamp Sofia was the more important and special one because being part of the international WordPress community also means volunteering, inspiring more junior colleagues and recruiting new contributors.
The community spirit was even stronger on that day. As Emil Docev (Back-end Developer) exclaimed, "Open source, open community! Loved how friendly and ready to help people were. And I got my first WP badge there!!!"
Our team, especially the less experienced members, received some important lessons from Contributor Day: "I learnt two things," Mariyan Dimitrov (Back-end Developer) says, "first, that everything can always become more complicated. And also, on a practical level, how to set up and work on the WordPress Core." And Lachezar adds: "I realized that being a developer is a job, that besides being fun and addictive, also requires responsibly building little pieces of code that evolve into something bigger, so you have to take good care of each little piece on the way." Radostina Kondakova had a beginner's experience, too: "For me, the most valuable thing was the help I got from my teammates and the WordPress community."
As usual, when working, we had challenges, too. For Ivan Mudrik (Back-end Developer) and the folks, engaged with the Core, "to prepare the setup for the Core unit tests was the challenge which we successfully dealt with."
It was on Contributor Day that we not only talked and tried to foresee what the future of WordPress would be like but also get to work and actually become part of that future. This was a day of community moving on as a living whole when people seemed to know each other well and worked together perfectly as a team.
We Enjoyed Our Time and Had a Lot of Fun
When you love what you do, even working on weekends is fun. On Saturday, our booth was busy and crowded: we were networking with friends, teaching enthusiasts how to solve the Rubik's Cube, taking photos with our cool booth signs. The team also enjoyed all the fun activities at the rest of the stands.
"As for the games – I liked every single one of them." – Vasil Dimchev (Project Manager) shares. "Especially the games which required thinking and logic. The swag was also great: socks, bamboo flash drives, small toy frogs, bags, backpacks, RFID blocker cases…" And Martin Mitrev (QA) adds: "I fully enjoyed the overall experience, but most of all …. I loved the stickers!" 😉
The after party surprised us, not only with exquisite drinks and snacks, but also with a photo booth that attracted the artistic personas on the team.
How to Remember WCSOF 2018: We Made a Dream-Team Impression, Active and Engaged
Our presence was not only massive in number, we were all active in the conference agenda and engaged in the contribution work. We took pride in being part of the Team DevriX and were inspired to become even better in what we do daily, and what we can contribute for the camps to come.
As Adelina concludes: "I love that our team makes the most of the Camp every time and this time we were a real army! That was truly amazing!" And Mariyan adds: "Our team was the best, not only because it was the biggest event, but mostly because of all the smiles that we were giving."
@wpdevrix #teamdevrix#wcsof
Contributor Day pic.twitter.com/qiYJH6Gqvd

— Radostina (@r_kondakova) November 25, 2018
Last but Not Least: DevriX Supported the Event in 3 Important Ways:
For this final part, let's just quote the facts and thank DevriX management:
DevriX Was a Bronze Sponsor
DevriX was the only WordPress Development Agency that supported the conference. We stood out together with international brands like WooCommerce, GoDaddy, Yoast Academy, and Jetpack. The rest of the sponsors were hosting companies such as: Jump.BG, Superhosting.BG, ICN.bg, Bluehost, SiteGround.
DevriX Was the Coffee Partner
The coffee and tea were fantastic and in abundance ("insanely goooooood!", to quote Vasil). Throughout the whole camp, starting from 8:30 am until after 4:00 pm, attendees could refresh with the high-quality hot drinks. "We turn coffee into code", as we at DevriX say.
DevriX Also Was the Contributor Day Sponsor
This year our company supported the fantastic volunteering and cooperation day where community spirit dominates. Two of our technical leads managed led two of the Contributor teams: Support and Translations.
As Vladimir Vassiliev (Senior Back-end Developer), who has been part of the WordPress Community for more than 8 years and led the Translation team, said: "WCSOF 2018 was like yet another reunion with all the folks we have collaborated with over years."
To conclude, in DevriX CTO Stanko Metodiev's words:
"WordCamp 2018 was an absolute blast! We had plenty of team members join. We all had great talks, made new friends, contributed significantly and had a lot of fun!"
WordCamp Sofia has made a lasting impression with all of us at DevriX. We were honored to meet with the awesome local WordPress Community and have the chance to inspire more people to contribute to the WordPress project.
BIG APPLAUSE, GUYS!