Picking the right keywords to rank for is vital for SEO and online success overall. There's a lot to lose if you choose to rank for words that are not relevant to your products and your target customers. Or, to rank for keywords that people don't type in the search bar at all.
There are various ways to discover new keywords and many factors will determine what keywords you'll choose and what you'll leave out. But, there are not that many techniques that can derive valuable keywords that are relevant to your website and your audience.
In this post, we'll cover 7 techniques on keyword gap analysis to equip you with the knowledge that can help you develop unique content for your page.
Why Keyword Gap Analysis Matters
Conducting keyword gap analysis can put competitors' content gaps in the spotlight and many more content opportunities that were there undiscovered.
By analyzing competitors you can generate a list of keywords and phrases that they already target plus other tactics and how they use them to achieve better results online.
In most cases, your list of seed keywords will help you perform an even more detailed analysis and thoroughly assess what search phrases are better to rank for and which not.
1. Discover Keywords
When you start to discover new keywords to rank for, you need to think about your readers. Your keywords need to describe their problems and uncover important solutions. You need to identify what your readers are searching for and create content around those topics.
When you understand what your readers want you'll be more prepared to discover keywords and gaps to target. The best keywords are:
Focused on Products and Services – Your keywords must be related to your products and services. They need to speak about your offer, enhance the features of your products/services.
Long-tail Keywords – Long-tail keywords are phrases composed of three or four words that are specific to your product, service, location, and brand. You can rank better for highly specific multi-word phrases than generic single keyword or double word phrases.
There are various ways to discover new keywords for your small business. You can start brainstorming and think of questions and words that your target audience uses in the web search. But, the shortest route is to use keyword research tools such as:
Google Correlate – There's no better place to find keywords than straight from the source – Google. With Correlate, you can see which two keywords are being searched together.
Keyword In – Here, you can easily combine your keywords. This tool matches your keyword with a long list of related keywords.
Soovle – This tool provides you with autocomplete search phrases from a variety of sources, including Google.
2. Find Questions That Readers Ask
Your best keywords will come from your target readers themselves. You have numerous options to find what people ask for in your niche. One of the best methods involves using Q&A sites such as Quora.
Quora has an algorithm that shows you the most popular content for a given topic first.
Enter your topic in the Quora search bar. Use the filter on the left to narrow down your results.
You can also follow the topic and stay on top of it whenever someone posts a question or gives a compelling answer to it. When you click a topic, Quora will suggest several subtopics to choose from.
From here on, you have new keywords that you can use. In the topics and subtopics, you'll see numerous questions and answers. Your best bet for keywords is answers that have at least several upvotes.
Questions are definitely a goldmine for keywords and a place where you can find numerous gaps that are unanswered by your competitors.
3. Conduct Competitive Keyword Research
Competitive keyword research is where the keyword gaps come out first, and the way to tap into these gaps is only through competitive analysis.
Chances are your competitors have already done their keyword research for the phrases that they are ranking for.
To discover who your competitors are, just enter your seed keywords one by one into a Google search and see who appears on the first page. Then, check every competitive website that ranks on the first page on Ahrefs, a well-known toolset for backlinks and SEO analysis.
Type in the link in the search bar and click 'Organic Keywords' from the sidebar.
Even a single competitor can provide you with enough keywords for your new content. If you want to learn more, just go to the "Competing Domains" option to find similar sites.
4. Use a Keyword Gap Analysis Tool
Now, let's identify the keywords that your competitors rank for and all the gaps that they don't rank for. Again, for the keyword gap analysis, it's recommended to use a tool like Ahrefs or Semrush.
The first thing you need to do is, again, to identify your top competitors. Grab your URL and enter it into Ahrefs Site Explorer. Then scroll down to "Competing Domains".
You'll see the common keywords that you and your competitors rank for and every unique keyword that they rank for. Look at each of your top 10 competitors in detail and their competing domains again.
Make a list of your competitors. Some of them will have a much higher domain authority than the rest. You need to filter out the ones that have comparable authority to your website.
If they rank well for keywords and have a similar domain authority to you, chances are that you can outrank them with better content.
Copy all of the URLs from your list of competitors, and head back to Ahrefs's batch analysis tool. Paste the URLs and start the analysis.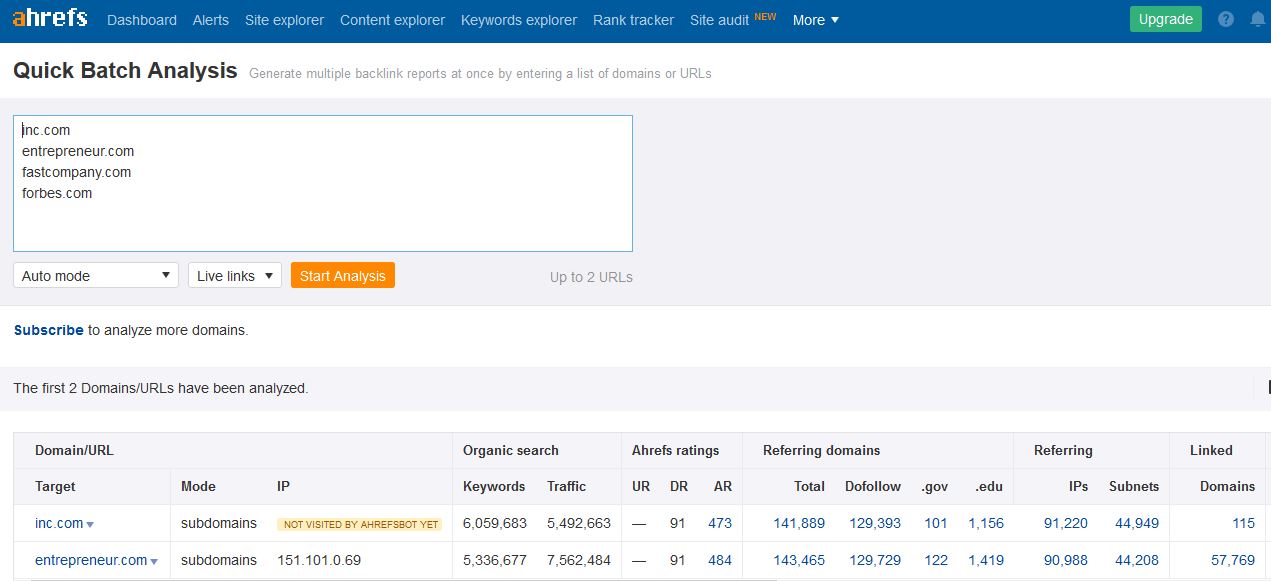 Ahrefs is going to return SEO metrics for each of the domains that you've listed in the batch analysis tool. One of those metrics is the Domain Rating (DR).
For example, if your domain rating is 53, you'll want to filter the competitive domains by their ratings and see who is comparable to yours.
Start with competitors that are plus or minus 10 of your rating. Copy the ones that are close to yours and go to Site Explorer > Content Gap. Add the competitive URLs there and the feature will find all the competitors' keywords that they rank for that you're not ranking for at all.
Click "show keywords" and the tool will return those keywords that you don't rank for. Then, click "Export" to export these keywords into a spreadsheet. In the spreadsheet, you'll have a lot of metrics such as volume, keyword difficulty, cost per click, etc.
A lot of these keywords in your list will make a fantastic topic to expand your keywords even further. Pick the ones that you wish to target your content for.
Play with this list of keywords. Try to find more meaning in them so that you can develop more content ideas around them.
5. Compare Competitive Keywords
Now that you have an excellent list of competitive keywords you need to compare your own site with your competitors. You need to ask yourself questions like:
What do competitors target that I'm not targeting?
What do I target that they don't?
How do they target differently than me?
How many keywords do they target per page?
What kind of content do they create around those keywords?
6. Categorize Your Keywords
If you want your keyword gap analysis to be more effective, you need to categorize and filter your keywords. You need to add as many categories as you can for your best competitive keywords. You can use a spreadsheet to categorize and label your keywords (video tutorial below).
You need to filter your keywords list to the point where you'll find keywords that don't belong in any specific category. Those are the keywords that are your biggest opportunity to rank for or are the ones that are the least relevant to your niche.
DevriX Recommends:
7. Pay attention to competitors' anchor text
Anchor text is the words you use in your links. When it comes to anchor text distribution, competitive analysis is essential. You may obtain a good sense of what the ideal anchor text distribution for your page should be by examining the anchor text usage of your high-ranking rivals. There are several distinct kinds of anchors you need to be aware of: exact match, partial match, brand name, and general. 
Exact match anchor text refers to a search engine's keyword that is precisely matched by the anchor text. The term "exact match" is somewhat limiting; in reality, there are many more nuances to it. When comparing these three types of anchor text, keep in mind that you're looking at them side-by-side rather than separately.
When optimizing the anchor text on your website, it's crucial to first understand how your competitors are utilizing anchor text. To accomplish this, simply Google for your major target term and then pass the top five results through a backlink checker like Ahrefs. Once you have the results, take a look at the anchor text for each page and categorize it as brand, target keyword, generic, etc. 
Then, figure out how much of the total number of anchors is occupied by each category. This will provide you with a good estimate of anchor text distribution for each page. Finally, use the five distributions you've created to get an idea of the overall anchor text environment for your target keyword.
Wrapping Up
Finding quality keywords is hard, especially if you're in an extremely competitive niche. But if you follow the rules above, you can cut hours of SEO work while focusing on the development of your small business.
Once you've derived your best keywords after the competitive gap analysis it's not enough to develop content around the topic. You need to form an angle that is distinctive for your target readers and meets their needs while focusing the keywords on your brand and business goals.