The development of WordPress as a content management system is nothing short of remarkable! Since its beginning as a blogging platform, it grew into the best multipurpose CMS used by millions of businesses and big brands worldwide.
The reasons for this are its open-source nature, excellent security, scalability, flexibility and data management benefits. Additionally, the process of launching a site with WordPress is effortless, and integrating it with other programs is smoother than with other CMS.
There are countless other good reasons why to opt for WordPress. But if you're still not convinced, perhaps the following examples of big brands with WordPress websites that actively use the platform might make you think otherwise.
Why Big Brands Love WordPress
As WordPress grows, more big brands take advantage of its popularity and benefit from the amazing CMS it has to offer. Its wide market share only proves its leadership in creating web experiences, and its vast community proves the extent of the adoption and innovative features that are just getting better with every new version. WordPress is THE platform of big brands because of the following:
Open-Source Nature
As an open-source platform, WordPress provides creators with loads of customization options. It is a CMS that is stable and regularly enhanced with new features allowing developers to work on innovative projects and use as many resources as possible.
With WordPress, developers are free to build whatever they want. There are no fees or licenses for using the Core, and the platform is efficient and straightforward to work with.
However, it's important to note that there are remittances when it comes to including specific third-party integrations.
Big Community
Brands also love WordPress because of its community, who are always ready to help businesses. Worldwide, local WordPress communities get together for meetups and organize WordCamps. In 2019 alone, 277 WordCamps happened in 41 countries, as well as 687 meetups in total.
User-Friendly Content Experience
The Gutenberg Editor allows an effortless and innovative content creating experience through better media editing, real-time content collaboration, and versatile content blocks. With each new version, the content editing experience is optimized. This results in a user-friendly content development experience.
Emphasis on Security
Millions of websites use WordPress and this makes it a popular target for hackers. But, luckily, every new version is safer than the one before. The real danger for WordPress are terribly-configured plugins, poor security habits of users with admin access (data phishing), as well as low-quality shared hosting services.
Anyone can create a plugin and promote it. Therefore, the best way to stay secure is to choose the plugins that you use carefully and reach out to the community and experts for trustworthy advice. Also, a WordPress website should always be run on the latest core version.
High Scalability
WordPress can be scaled to billions of site visitors! Having a scalable CMS allows your website to grow and handle greater traffic. With a quality configuration, plugins, and infrastructure, the options are endless, which is another reason why big brands choose WordPress over any other CMS.
Speed
WordPress, if properly maintained, is a pretty fast CMS. Even when performance issues do arise, the community works hard to get things back in order. Additionally, with the right plugins, hosting, CDN, and coding practices, the speed of WordPress is incomparably better to any other content management platform.
Big Brands That Use WordPress
Now that you know why businesses choose WordPress as their website platform. Let's have a look at some of the biggest brands that have chosen the CMS to promote and scale their companies successfully.
1. AMC
From The Walking Dead to Mad Men, users can subscribe to every show on the AMC website. The menu is inside a 'hamburger', the scrolling is perfect, the layout is dark-colored and understandable, and the wide imagery blends in perfectly with the transparent header.
2. Mercedes-Benz
The luxury car brand's website uses professional media content to showcase their vehicles. The magnificent imagery complements the elements and the design perfectly. One distinctive feature of this site is the search bar integrated into the featured slider.
3. Wired Magazine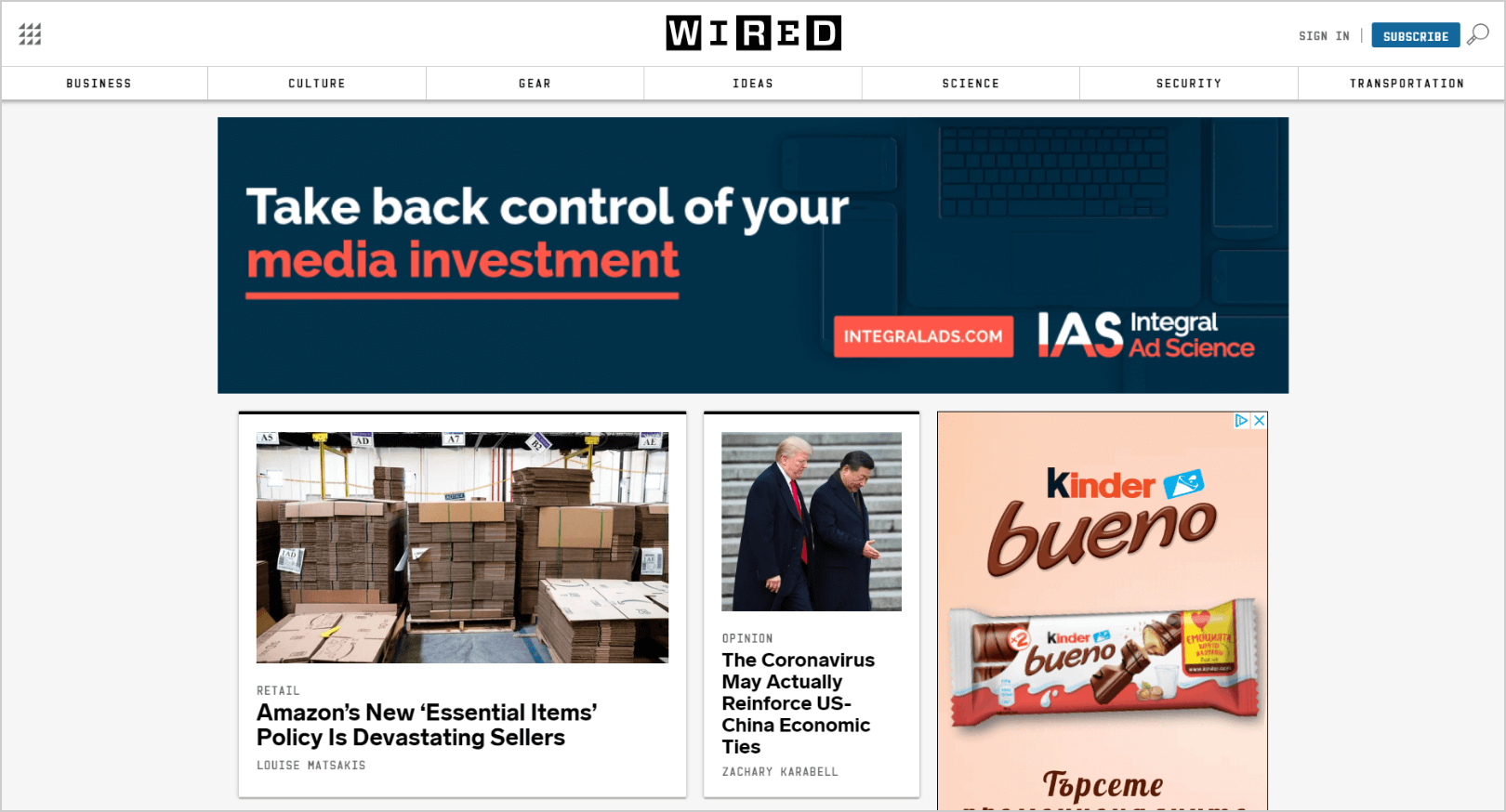 As a digital tech magazine, Wired is excellent at bringing readers the latest in technology through WordPress. It's a content-rich website with lots of categories and correctly positioned advertisements. It looks elegant, just like a renowned paper magazine should.
4. The Next Web
The Next Web is one of the most prominent WordPress websites. It provides information on the latest in the digital world. They publish loads of content about business, technology, and trends. The interface is slick, with orange color highlighting the most important content on the site.
5. TechCrunch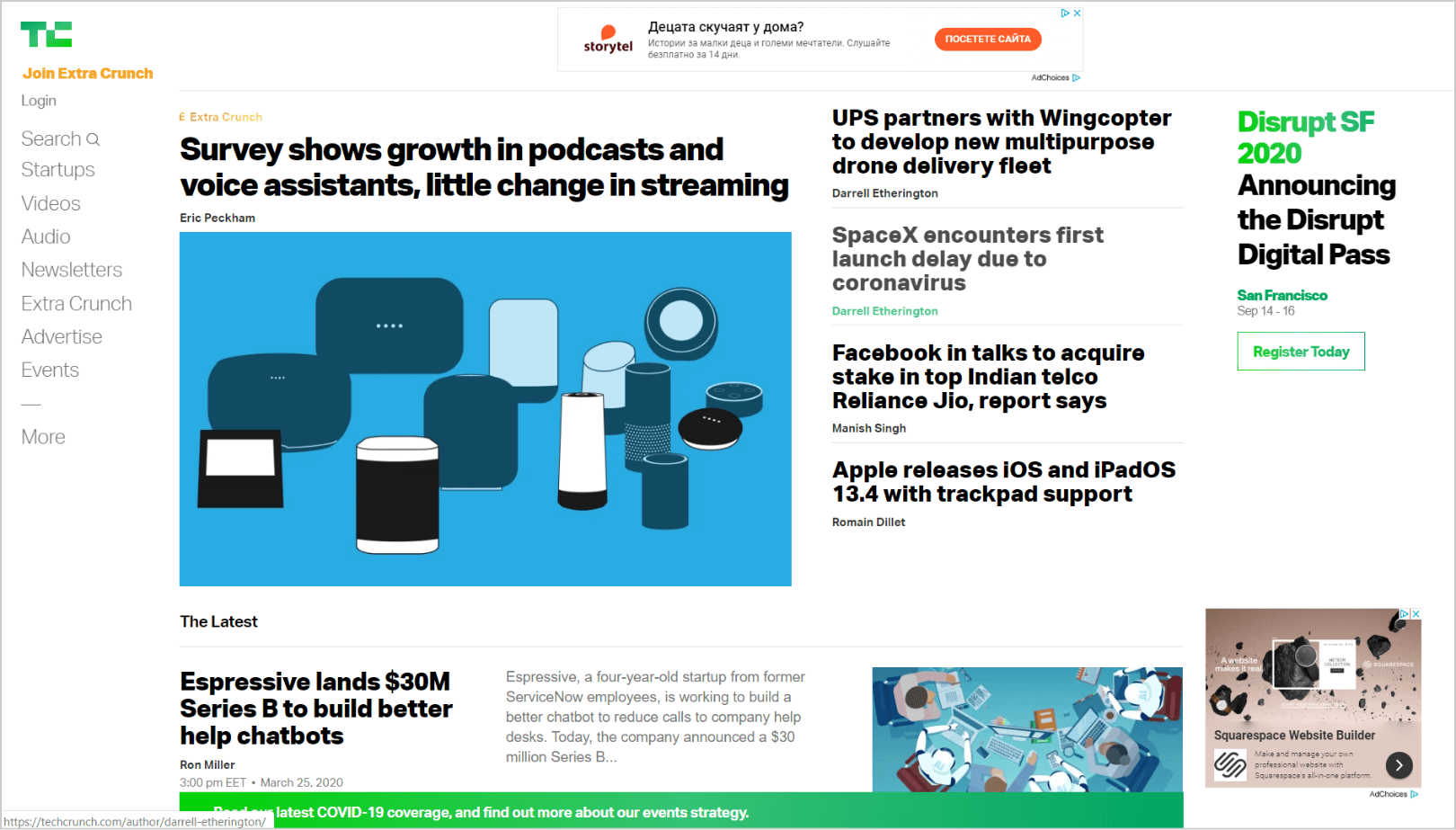 They're an excellent example of a WordPress magazine layout. The interface is purely content-focused, with separate sections for videos at the bottom, and a professional magazine overall looks.
6. Vogue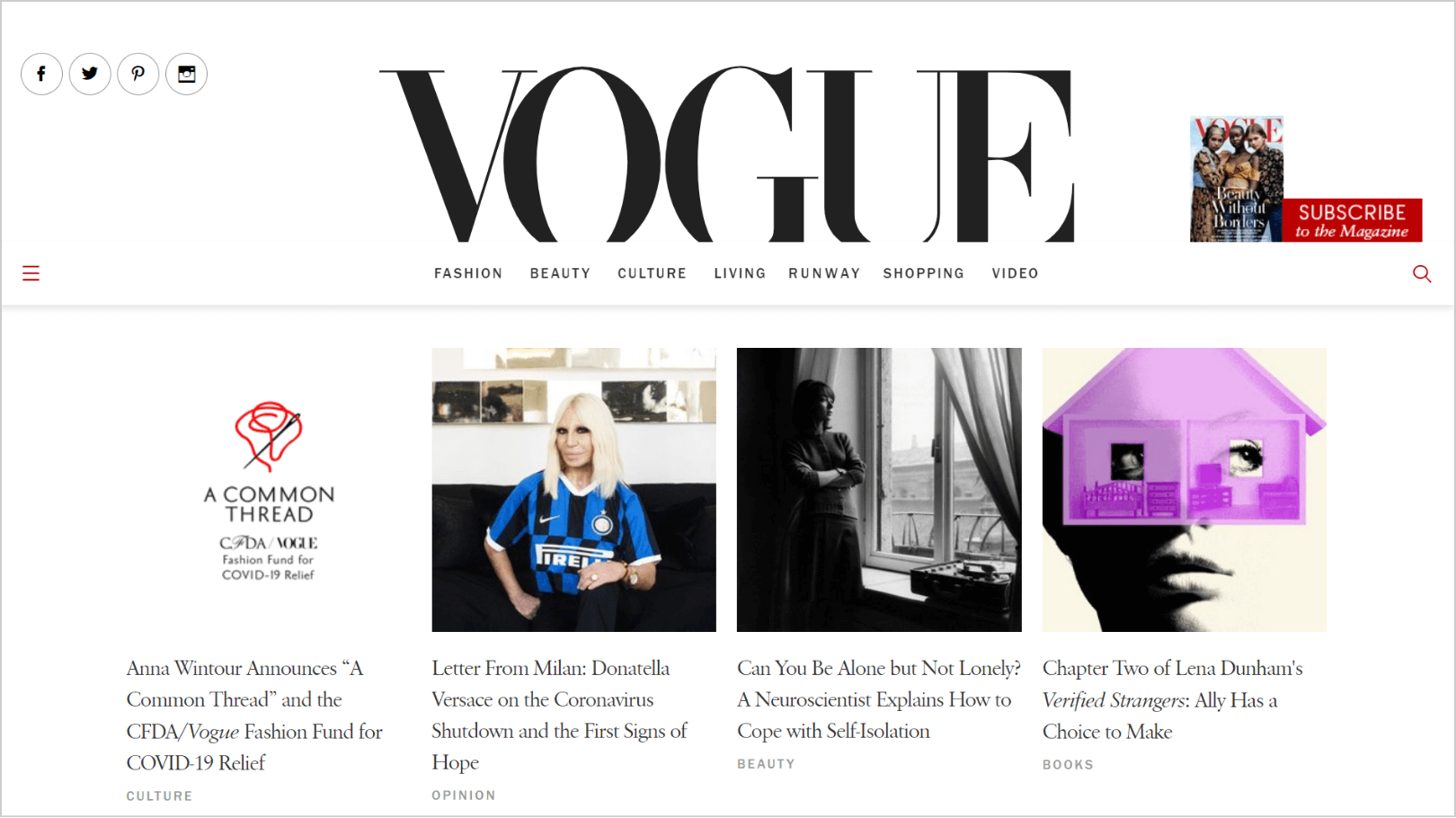 The fashion magazine's website is built on top of WordPress through the WordPress REST API and React. It features a clear design with full-width header, various post layouts, and infinite scroll.
7. New Yorker
The weekly journal's website offers a wide variety of political, business, and pop-culture news for desktop and mobile devices. Its peculiarities include attractive and readable typography, excellent illustrations, and neatly divided categories for better content selection.
8. Quartz
Atlantic Media's global economy news website is an excellent example of a modern WordPress magazine. The experience offers a distinctive homepage look, wide multimedia and headlines, and excellent navigation.
9. Bata
Bata is a Swiss household shoes and accessories brand that uses WordPress as their web platform. The distinguishing features of the site embody rich multimedia, wide header, AJAX filters, and an option to choose a separate store for a different country.
10. Sony Music
Sony Music Entertainment Incorporated is an international music venture whose web presence is top inWordPress. The main properties of the site include a clean layout, full-width image slider that features the musicians that signed on with the company, an artist grid page and, classical blog post pages.
11. 007
Throughout the years James Bond has become a brand in itself. The website showcases James Bond himself and his lifestyle, with a neat header, masonry-styled posts grid, infinite scroll, and a smart-looking Twitter feed on the left.
12. New York Post
This WordPress-based magazine is an excellent news source, from politics to fashion and sports. The website's features include a boxed magazine layout, wavering black and white page sections, and an excellent post categorization for better browsing.
13. Variety Magazine
Variety is a digital magazine that delivers the latest in movies and entertainment. This WordPress website features a clean design, a searchable archive, a detailed movie industry calendar, podcast widget, and three different language variations depending where you are in the world.
14. Home Depot Careers
An excellent career-focused website is a must for big brands that want to attract the best talent. Home Depot knows how vital a career-centered site is. Their WordPress-based site helps them recruit employees through the web.
15. PlayStation Blog
The PlayStation Blog is a content paradise for video gamers! And how can it not be, when built on top of the best CMS in the marketplace. On the website, people can browse the sections on a magazine layout, with all the additional options blended in a discrete menu and sidebar.
16. Glassdoor Blog
As one of the most prominent career websites, Glassdoor's blog is an excellent example of a job platform that integrates with WordPress. Users can browse between jobs and articles, and how they can advance their careers. Something this website does in the best possible manner.
17. BBC America
BBC America delivers audiences the best in British and American TV shows from various genres. It is a WordPress Multisite install, with each subsite working on top of its own child theme. The main site features a dark layout with large imagery, rich media content, and a minimalistic overall feel.
18. Microsoft News Blog
Even the great Microsoft can't resist WordPress! The Multisite platform involves more than 30 subsites in various languages. Microsoft news features a clear design, with big featured images as blog post previews, with the highlighted posts on the top of the homepage.
19. Bloomberg Professional
Bloomberg Professional offers business know-how and specialized business service through their WordPress website. It features a dark skin layout with a wide video header, easy navigation, and intuitively placed links and service categories to choose from.
20. Facebook Newsroom
Facebook implements WordPress as a blogging platform to inform users and businesses about the latest in social networking. The website has a minimalistic feel with clear headlines and imagery and refined grid galleries.
21. Toyota Motors Brazil
Toyota's Brazilian branch chose WordPress as its online platform. It's good looking, but at the same time, it's a simple website that characterizes a professional look, excellent car simulations, and user-centered design.
22. Evernote Blog
As everyone's preferred online notebook, Evernote uses WordPress to bring an excellent blog experience to users. The features of their blog site include a clean display of prominent blog posts and a content-first design.
23. Logitech Blog
The Logitech blog is an excellent resource for the company's products and for any announcements directly from the company's employees. As one of the leading tech companies, their step to move their blog content on WordPress is substantial.
24. Adobe Blogs
Adobe is the global reader when it comes to creative cloud software products for design and multimedia. They opted for the WordPress Multisite feature to power more than 1,200 blogs packed with news and tutorials.
25. CBS New York
CBS NY is one of the main news sources that gets a ton of traffic and provides a wide variety of topics. Consequently, there's not a better platform to host content and scale a news site than WordPress.
26. Tribune Media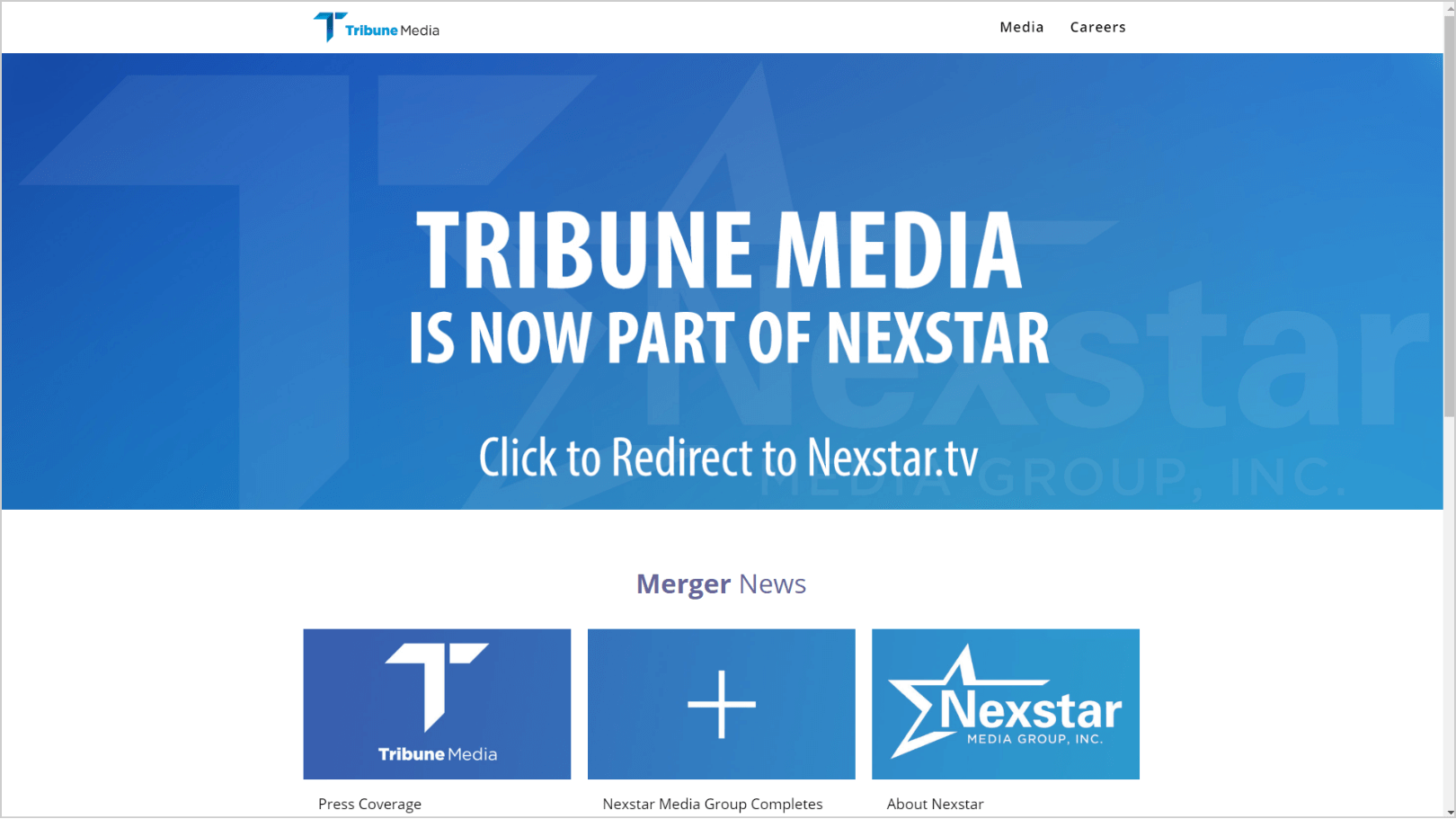 Tribune Media provides TV and digital media news, sports, and entertainment programs. It's a clean and neat design, where the brand colors dominate the content and highlight the most important sections of the site.
Wrapping Up
As you can see WordPress usage can be truly limitless, and there's not an industry that WordPress can't successfully support. The capabilities of the CMS are more than proven, and you can grow your business on top of WordPress, just like the big brands above successfully do.
Do you know of any other examples of major brands with WordPress websites that we forgot to mention? Help us by leaving a comment below!
Also, if you're interested in creating a high-scale project for unlimited growth, get in touch with our experienced team of technical WordPress experts.