Trish Parr, YouTuber and front end programmer once said:
If you think math is hard, try web design.
Web design is at the heart of many different fields such as web graphic design, user experience, technology, and much, much more. And that doesn't include what needs to be done in order to get that web design noticed by the right people, how to get it ranked on search engines, and then run a successful business from it.
In short, creating a website that achieves the goals you have set for it can be easier said than done. Do it wrong and you'll end up wasting valuable time and money with very little results to show for it.
The challenges intensify depending on whether the site is made for B2B or B2C audiences. Although both these models require their web designs to be approached using the same principles, even though there are some key differences for B2B websites that will affect the design you use.
The key to successful sales for many B2B organizations is good website design. B2B sales and marketing approaches that differ greatly from B2C where sales are usually completed in one site visit.
With B2Bs, the expectation is that leads will revisit the site multiple times before becoming a successful conversion. As a result, B2B websites need to be designed with certain standards in mind that differ from the approach a B2C website would take.
The following are the best practices for B2B website design with examples, and tips on what to avoid, from some of the best websites in the industry.
Value Proposition
First and foremost is the value proposition. The value proposition of a B2B website is a statement of what is on offer, how that compares to competing offers, and how that offer will be delivered on. Ultimately, it should tell the public why they should choose your business over a competitor's.
Creating a compelling value proposition comes down to understanding what motivates buyers in your industry to choose products or services. These propositions can be broken down into three sub-categories; promise, benefits, and reasoning.
The promise describes what is on offer to potential buyers, while the benefits describe what there is that makes this offer worthwhile. Reasoning refers to the potential buyer: why would they choose your offer over one from another company?
For your B2B site, it's a best practice to focus on the benefits of your offer rather than the features. This is because buyers are motivated by solutions for their needs, more than they are by feature lists. They want to see what you can resolve without looking too hard.
Unbounce, the site dedicated to building landing pages for brands, is a good example of value proposition done well. They know that one of the biggest hurdles to building custom landing pages is needing coding knowledge. Their proposition clearly responds to business needs, is displayed prominently, and provides clear reasonings for why their services outperform others.
Lead Capturing
Another major goal for B2B websites is to capture leads, particularly as the sales process for this model can take longer to complete. Unlike B2C websites, which cater to wider audiences, B2Bs often target more niche groups that require a different approach.
Chris Hokkansson of One Red Bird said it best when he stated:
B2B marketing and B2C marketing are like two different dog breeds. But just as you wouldn't handle a pit bull the same as you would a basset hound, B2B, and B2C marketing demand different approaches.
B2B lead generation, working in vertical markets, not only requires more complex value propositions but also sales processes that are more refined to be suitable to slower and engaged approaches.
This is also the reason why B2Bs tend to deal with leads of higher value than B2Cs do.
B2B buying decisions can take months or even years to finalize compared to B2C sites that tend to do quick one-off sales. B2B buyers and their decision-making processes are complex and generally are decided by a group of people who need to reach a consensus.
Are You Successfully Converting Leads? Lead Conversion Guide for Companies
Furthermore, B2Bs also do a lot of research before committing to a product or service and have a clear idea of the solutions they need. They also don't rush into decisions which is why your website needs to support both lead capturing and longer sales cycles.
Your B2B landing page, forms, and other CTAs need to be optimized for getting as many leads as possible.
The best B2B landing pages have clear header messaging showing a strong offer right out the gate. They also often include a video that demonstrates their value proposition. Many of these pages feature trustmarks, which are a collection of all the brand logos from companies that have used their product or service.
Another important website design practice relates to forms. Forms should be kept short to ensure that it's easy for leads to add their details – you'll want to keep the designs clean, streamlined, and uncluttered for the best results.
Databox is a great example of how lead capturing should be done for B2B sites, making it easy to sign up for more info with minimal effort needed from those checking out their website.
Top-of-the-Funnel Content
Top-of-the-funnel content refers to content centered around buyer interests and needs. Also referred to as the "attract-to-convert" stage, you should focus on creating B2B content that is of high quality and helps leads that are in the conversion and exploration process.
As mentioned above, B2Bs do their research before deciding to purchase a service or product, and this is where your site content plays an important role. Blog posts, research reports, videos, webinars, whitepapers, and other website content will all play a part in establishing your B2B website, building your brand story, and gaining leads to pursue.
By developing authoritative content consistently, you can boost your SEO as well as create more brand credibility and awareness. Your website content should address any hurdles that your target customer group will have.
Over 50% of B2B buyers prefer to do their own independent research prior to contacting a company or sales team directly. This means that emphasis should not only be placed on in-house content but also on guest-posts from other websites. Pitching and creating content for external media opportunities improve your credibility as a B2B offering, which in turn will drive up your traffic.
Hubspot is a great example of these concepts put into practice and regularly publishes top-of-the-funnel content through their blog, eBooks, certifications, prior customer stories, and more.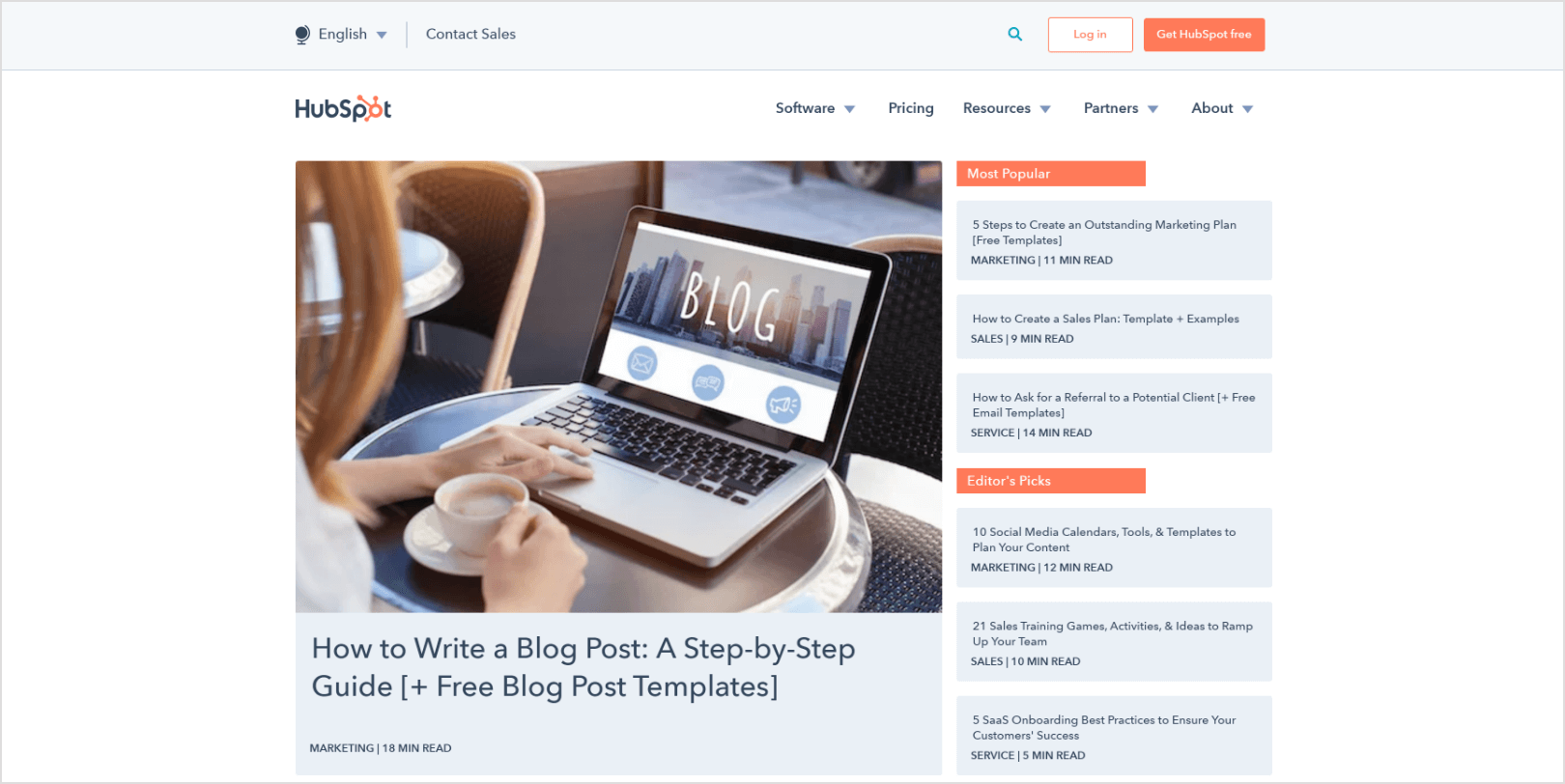 Website Design
Perhaps one of the most important parts of a B2B website is the actual website design. The key to a great B2B website is a clean and streamlined design that is easy to navigate, provides compelling content, and meets customer needs. Think of your website as a 24/7 employee – it should ideally continue functioning as expected without constant oversight.
Part of deciding on a good B2B website design is choosing good imagery, typography, and making effective use of white space. It can be tempting to over-design, but (relevant, intuitive design, customer-centered) usability is more important than flashy design.
Your design should encompass all of the above factors, but also it should clearly point visitors to where they can contact your sales team.
Statistics have shown that the majority of site visitors prefer to see a company's contact details displayed prominently on the home page. There is no point in maximizing your website design efforts if you do not provide interested parties with a way to follow up.
Other best practices for this type of website include avoiding autoplay videos, automatic carousels, and keeping the design consistent across the entire website. The goal is to come up with a design that creates a unified experience regardless of which page the user is on, and to avoid jarring or off-putting experiences.
Remember that the website design you choose will affect how credible potential B2B clients see your business.
Statistics have shown that B2B sites should aim to keep their bounce rates under 60% – users will quickly leave a website due to lack of clear messaging, poor design or unclear navigation options.
The impact of not paying careful attention to the finer details is clear; it can directly cost you valuable leads and potential conversions. On average, B2B websites can have a bounce rate of 25 – 55%. Therefore you should do whatever you reasonably can to keep your bounce rate to the lower end of this scale.
Zendesk is a good example of B2B website design that is clean, feels streamlined but without being overcrowded. It has eye-catching content without feeling crowded and does not have any fluff like autoplay videos which have become a big pet-peeve for many.
Wrapping Up
There are many characteristics that a good B2B website will require, but the few listed in this article are some of the most essential.
Building a site that performs well and follows all the best practices is an involved process, more complex than building a B2C website.Although the long-term pay off that comes from dealing with high-value leads is definitely worth it. The best results will ultimately come from understanding your target audience, and their needs.
Neville Brody, a famous English graphic designer, and typographer, once stated that digital design was much like painting, except for the fact that the paint never dries. Web design and development is a process of constant creation, testing, and iteration.
The best and foremost practice in website design is to keep on refining. Refine until you have a final product that shows your value proposition, captures leads,and provides essential content while maintaining usability. This will lead to increased brand trustworthiness, boost incoming conversions, and accelerate the growth of your business.