Search engine optimization (SEO) is one of the most important aspects of digital marketing. The world of search engines is complex and their algorithms are constantly changing. The latest Google core update announced on May 4th proves that.
Later today, we are releasing a broad core algorithm update, as we do several times per year. It is called the May 2020 Core Update. Our guidance about such updates remains as we've covered before. Please see this blog post for more about that:https://t.co/e5ZQUAlt0G

— Google SearchLiaison (@searchliaison) May 4, 2020
Diving into search engine algorithms and trying to beat them in order to rank your website won't be easy without additional help. That's why armed with the right SEO tools, you can get useful insights on how to improve your site from an SEO perspective.
There are thousands of SEO tools out there that can support marketers' efforts to increase their website traffic, conversions, and revenue. To make sure you are doing your SEO marketing right you need a proper kit of SEO tools.
In this article, we are going to feature SEO tools that have been divided into the following categories:
Google's tools
Tools for keyword research and content ideas
Instruments for website performance analytics and all-in-one tools
Technical SEO tools and crawlers
WordPress Plugins for SEO
The list includes paid, free, popular and innovative tools. Our intent is to keep this list growing over time, so don't forget to come back and check it out once in a while. Whether you are looking for new options or you just want to expand your knowledge and test new funky instruments.
Google's Tools
1. Google Analytics
Google Analytics (GA) is Google's website analysis tool. The instrument provides an extremely in-depth look at your website performance and your audience. It brings you lots of insights about who visits your website and their specific behaviors.
But what do you know about its use for SEO? GA supports your SEO efforts by:
Syncing with Google Search Console
Creating SEO-related goals
Comparing non-organic visitors to organic
Looking at top-performing content and pages
Identifying slow pages
Creating a custom SEO dashboards
To use Google Analytics, you need to add the unique code generated on your site.
2. Google Search Console
Google Search Console is another free service by Google. It's essential because you can monitor your ranking and receive information on whether your website has been indexed by Google.
If your website has not been indexed by Google this means it doesn't appear in search results. This could lead to fewer or no traffic or conversions. As you can assume, monitoring Google Search Console is crucial for your organic traffic.
You can use Google Search Console to check several details in order to optimize the visibility of your website in Google search. What else can you do?
Confirm that Google can find and crawl your site.
Fix indexing problems and request re-indexing of new or updated content.
Monitor how often your website appears in Google searches.
Get information on which search queries show your website.
Check the indexing status of your website.
In order to use the Search Console reports, you need to enable Search Console data sharing in your GA property settings. If you have administrator rights on both the Google Analytics and Search Console accounts you can link them. This will enable you to receive email alerts when Google encounters indexing issues on your site.
What Does Google Search Console Do and How to Benefit from It
3. PageSpeed Insights
PageSpeed Insights reports on your website's performance speed on both mobile and desktop devices. It also provides feedback on problems and recommendations on how you can further improve your page speed.
It's free and pretty easy to use, no registration nor code embed is needed – you just need to paste your URL address and you will receive information about your website speed.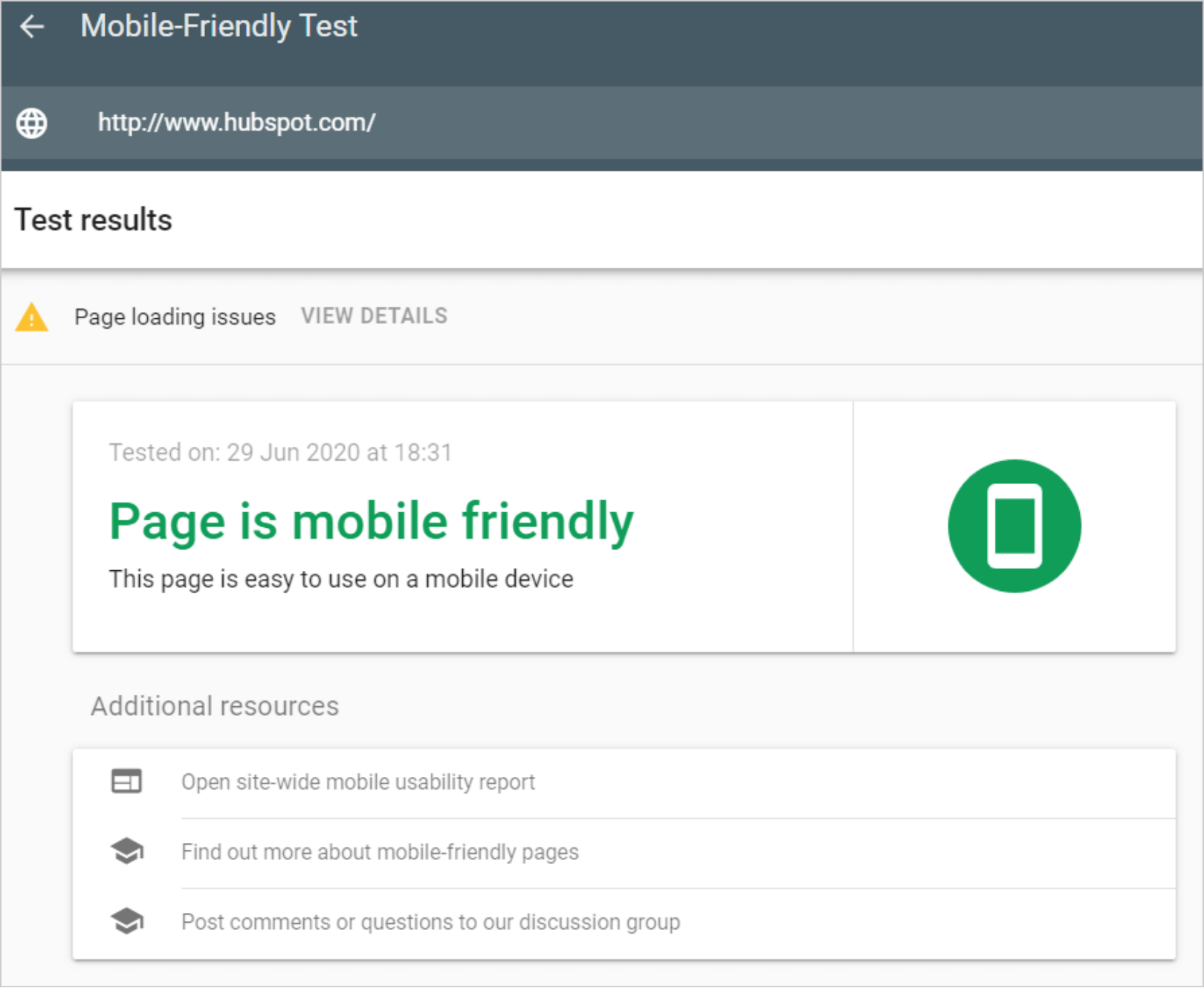 In the mobile-first era, designing and optimizing your website for mobile devices is no longer a choice but a must. Google's mobile-friendly test tool is another free instrument not to miss. It will advise you if your website needs improvements in its mobile version.
Google introduced a couple of years ago the mobile-first indexing. Being mobile-friendly is not only a question of outstanding user experience. It impacts your rankings in Google's SERP.
5. Google My Business
Google My Business is a key tool for local SEO. It helps you to ensure your business appears on Google Search and Google Maps. Especially if your business is "brick and mortar", it's important to update your information on Google My Business.
This way customers will know where you are located or what's your working schedule. This will also benefit voice search queries.
Tools for Keyword Research and Content Ideas
6. Google Keyword Planner
Even though Google Keyword Planner doesn't provide comprehensive data if you don't run ads, it's still worth having in your keyword research toolkit.
7. Answer The Public
Answer The Public will assist you in getting useful insights "direct from the minds of your customers". The tool pulls the autocomplete data from Google and provides marketers with fairly comprehensive reports around specific keywords.
The tool is literally your content idea generator and inspiration to create powerful headlines or titles for your website content.
8. AlsoAsked.com
AlsoAsked.com uses the "People also asked" data in combination with suggested data and auto-complete searches on Google to visually display how the questions are topically grouped together.
The tool's best feature is to help you find long-tail keywords.
9. KWFinder
With KWfinder you can discover the keywords you can rank for, monitor the keywords your competitors rank for, and get thousands of keyword ideas for your business. In addition to that KWFinder is famous for its user-friendly and intuitive design.
KWfinder is a paid keyword tool and some of its features include:
Keywords research and information on search volumes plus keyword difficulty.
Search results analysis for different locations including estimated click-through rate (CTRs) and local search results in more than 52k locations.
Competitor analysis inspecting authority of your competitors, traffic, most valuable content, and their backlink profile.
The basic plan costs $29 per month.
10. Keyword Generator, by Ahrefs
Ahrefs is a pretty powerful SEO tool that stores enormous data from over 8 billion queries. The free version of Ahrefs Keyword Generator provides you with 100 keyword ideas and top 50 related questions.
You can also see the search volume for each suggestion as well as the keyword difficulty for the first 10 results. Another cool feature is that you can choose keyword ideas from Google, Bing, YouTube and Amazon.
11. LSI Graph
Latent Semantic Indexing (LSI) is a system used by search engines to analyze the semantic field of words surrounding a given topic. The tool will give you additional ideas so you can focus your keywords and discover further keywords opportunities.
LSI Graph has the following features:
LSI keywords
Local keyword research
Traffic and competition analysis
Discovering the top-performing content in your niche, and more.
The tool is paid, but the free version gives you up to 8 search queries per day. The basic plan starts from $27 per month.
12. CanIRank
CanIRank gives you recommendations and instructions about a specific keyword.
This SEO software can calculate the keyword ROI score. The rate is essential because you will know if you are following the right keyword strategy. The tool's additional value is that its suggestions will help you rank higher for a targeted keyword.
It has a forever free version, while the paid plan starts from $49 per month.
Top All-In-One Tools
In this section, we have included the most popular, reliable and widely-used "players" in the SEO software field. These tools have their own algorithms and site rankings sometimes vary, but all their data is based on years of in-depth research.
13. SEMrush
SEMrush is a professional tool that gives you access to tons of information about any website just by its URL.
The key features include organic research, keyword research, keywords difficulty, traffic analytics, tracking social media statistics, backlinks analysis, position tracking, and much more.
It's a paid tool and the plans start from $99 per month for the Pro plan.
14. HubSpot
HubSpot is another popular all-in-one inbound marketing software. In terms of SEO, HubSpot has SEO marketing software that will support your content strategy. You will receive actionable recommendations on how to optimize your website for SEO.
HubSpot is easy to integrate with Google Search Console and receive the data directly from Google. You can track metrics like impressions, average position and click-through rate to get insights where your content stands in Google's search results.
HubSpot offers a variety of plans. There are free and paid options.
15. Moz
Moz is yet another all-in-one SEO software in the top all-in-one tools. You can use it for many different aspects of digital marketing like SEO, inbound marketing, link building and content marketing.
Moz has various tools that will help you improve your website so it can rank higher in Google.
Among its features are:
SEO Tools
Keyword Research
SEO Audit & Crawl
Backlink Research
Rank Tracking
SEO Toolbar
Domain Analysis
The starter plan costs $149 per month. However, you can test it out for a whole month before deciding whether to subscribe.
16. Ahrefs
Similar to Moz and SemRush, Ahrefs is also a fully-equipped professional SEO tool. Ahrefs crawls 5 billion web pages every day. The instrument has data about 150 million keywords in the United States and also data about websites in 150 more countries.
You have access to tons of data you can use to analyze your website as well as your competitors.
Ahref's tools set includes:
Site explorer
Keywords explorer
Site audit
Rank tracker
Content explorer
Backlinks checker
The tool is paid and the Lite plan costs $99 per month.
17. Ubersuggest
Ubersuggest is relatively new but it's constantly improving and its functions are growing. It is an SEO software that provides insight about your website and can discover keyword opportunities.
Apart from keyword suggestions, with search volume, SEO difficulty, cost per click (CPC) and everything related to keyword research, you can check your domain score, discover the top SEO pages, get content ideas and backlinks data.
Technical SEO Tools and Crawlers
18. Siteliner
Siteliner is an SEO tool that will help you explore and improve your website. The tool can identify the key issues affecting your website's quality such as duplicate content, broken links, etc.
The goal is to identify all the issues that prevent your website from ranking higher in Google.
The free version provides an analysis of websites with up to 250 pages, while premium versions offer features like unlimited scans, saved reports, and more.
19. Varvy SEO Tool
The Varvy SEO tool provides a pretty insightful SEO audit for a free tool. It is based on Google's guidelines for website visibility and there you can check if your website follows them in order to be indexed by Google's bot.
The tool will inform you if your website is mobile-friendly, where you have missing alt texts, if your robots.txt file is telling search engines which page to crawl or not, if your page is secure with HTTPS and more.
20. SERPSim
SERPSim is a free snippet generator and SERP simulator optimization tool. You can see a preview of how your title, URL, and meta description will appear on Google. Among its other features is the ability to share, save and copy a single snippet or multiple.
In addition, you can check your snippets both on desktop or mobile.
21. Schema Markup Generator by Merkle
Schema markup is a code that you can place on your website so that search engines can provide more valuable results to users.
When adding schema markup to your websites it creates an enhanced description that appears in search results. This description is known as a rich snippet.
Schema markup is called "the virtual business card" because it can provide general information to users about the website in a couple of sentences.
You can use the Schema Markup Generator to create JSON-LD markups. JSON-LD (JavaScript Object Notation for Linked Data) markup is an implementation format for structuring data. It takes the unstructured content on the web and organizes it as a well-structured result.
The tool has a variety of other features such as robots.txt tester, sitemap generator, SEO tool to fetch and render a webpage, you can make HTML snapshots, pre-rendering, dynamic rendering, mobile-first index tool and more.
22. Screaming Frog
Screaming Frog is one of the most popular website crawlers. Crawlers, also called spiders, are internet bots that browse and index content from all over the Internet.
Their idea of the crawlers is to collect data and provide relevant links and results in search engines once a user types a query into Google or another search engine.
Screaming Frog SEO Spider is a downloadable desktop tool for SEO analysis that can find issues such as broken links and duplicated content. It can also analyze page titles and meta data, audit redirects and more.
With the free version of the tool, you can crawl up to 500 URLs.
23. Netpeak Spider
Netpeak Spider is another popular SEO crawler. You can find broken links or images, check for duplicate content, check redirects, robots.txt, and basically all SEO-important elements that are essential to ranking well in search engines.
One of its cool features is that you can generate an XML sitemap or if you already have one, you can use the validator and search for possible improvements.
WordPress Plugins for SEO
There are quite a few WordPress SEO plugins for you to choose from. However, we have selected a couple that we have tested.
24. Yoast SEO Plugin
Yoast SEO is one of the most popular WordPress plugins among marketers. The plugin supports marketers in SEO optimization with the following main features:
Title and meta description
Placeholders for social media images
Schema implementation
XML Sitemaps functionality at the push of a button
Control on site's breadcrumbs
Automatically set canonical URLs to avoid duplicate content
Writing SEO-friendly texts with focus keywords
Readability analysis
The plugin has a premium version that gives more possibilities. It is a known vulnerability that both versions of the plugin are quite heavy and will slow down your website a bit.
This is a WordPress plugin that can identify your broken links so that you can fix them on time.
Among the key features is monitoring links in your posts, pages, and comments. You will be able to detect links that don't work. You can act by preventing search engines from following these broken links. Furthermore, it notifies you about broken links via dashboard or email.
Related: The Best WordPress Tracker Plugins
Wrapping up
We've listed 25 SEO tools that can help you achieve your marketing goals. From keyword research tools, analytics, SEO crawlers, WordPress plugins to backlinks checkers and more.
Some of them have paid plans; others are free. We've included pretty sophisticated tools where you will need time to learn how to benefit from them. We didn't skip SEO instruments that are simple to use.
Don't forget the list will be growing, so don't miss on the opportunity the stay tuned about different SEO tools that will support you in the optimization of your website.
Which SEO tools do you use? Share with us in the comments below.