The ever-changing needs and preferences of customers nowadays are becoming more difficult to fulfill. One way or another, there has to be something a marketer or business owner can do to cope with these challenges. In the digital world, Marketing Tools could be one of the answers to this problem.
The automation of processPostwirees in marketing and sales aims to replace time-consuming procedures with spot-on solutions. Software and platforms are designed to simplify the process. Consequently, these technologies will increase the efficiency of the output.
Below is a comprehensive list of Marketing Tools one can use to achieve better business results.
Top 47 Marketing Tools
You can strengthen your Digital Marketing strategies and your online presence. There are different Marketing Tools you can explore to achieve this. These tools, software and digital technologies, that efficiently implement marketing plans.
Different Marketing Tools can automate marketing actions via email, content, social media, sales and lead generation. These platforms can simplify repetitive tasks to make the implementation process more manageable.
A) Email Marketing Tools
Target your customers directly with email marketing tools. Email marketing refers to a direct way of connecting and sending information to a target market. It's another digital marketing strategy which can be automated through marketing tools such as the following.
Constant Contact allows you to "send great-looking emails that drive big results." This platform is one of the fastest growing email marketing tools out there. It is easy to use and friendly for beginners.
Sign up for a free trial for the first 60 days. Different pricing schemes are available and rates range from $20 per month to $335 per month after the trial period.
The features of Constant Contact include creating and editing of emails through various templates and editings tools. Image library and file hosting are also possible. You can also build contacts through the list building tools as well as send and track email deliverability. You can even set up an auto answer with its autoresponder attribute. Of course, this tool allows surveys and coupons as an added feature.
Features:
Apps & Integrations
Contact Management
Email Automation and Deliverability
Events Registration & Management
Facebook Fan Promotion
Image Library
List-Building Tools
Mobile Email Marketing
Opens & Click Tracking
Social Media Sharing Tools
Tracking & Reporting
With over 100,000 small business clients around the globe, AWeber is a top-performing provider of email marketing services. It helps marketers and business owners automate emails and get in touch with subscribers.
AWeber allows you to start your campaigns FREE for a month. After that, you can choose $19 per month or $29 per month option. Packages differ according to price.
Aweber has email newsletters that allow marketers or business owners to automatically create emails from your newest blog posts. Other features include a drag and drop editor, email tagging and autoresponder.
It is hassle-free to create and send professional email newsletters with the HTML templates.
Features:
App Showcase
Autoresponders
AWeber Mobile App
Blog Newsletters
Bulk and Business Email Marketing
Drag and Drop Editor
Direct Email Marketing
Email Analytics and Deliverability
Email Newsletters and Marketing Campaigns
HTML Email Templates
Permission Email Marketing
Sign Up Forms
Subscriber Segmenting and Management
ConvertKit is an email marketing tool primarily designed for professional bloggers. This niche market has access to a simple and elegant tool that is smart to use.
All ConvertKit plans include unlimited forms, courses, landing page creation, automation rules, and emails. So get started for as low as $29 per month.
ConvertKit focuses only on the best email marketing features. This tool integrates well with e-commerce, landing page, and membership site providers.
Features:
Automation Blueprints and Rules
Broadcasts
Click Through Tracking
Custom CSS and Opt-in Forms
Custom Patterns & Textures
Segmenting
Customizable Landing Page Design
Drag-n-drop Interface
Drip Email Marketing
Email Scheduling and Sequences
Landing Page Templates
Multiple Incentives
Open Rate Tracking
Personalized Messages
Post-specific Opt-in Forms
Subscriber Exclusion
Visual Editor
Another email marketing tool is GetResponse. It is a complete online marketing platform. With its email marketing services, you can grow your list, increase conversions and optimize audience engagement. Moreover, GetResponse claims to serve more than 350k happy customers.
GetResponse has free onboarding and scalable plans. Packages start as low as $15 per month.
This tool offers landing page optimization, webinar marketing solutions and overall user experience enhancement.
Features:
A/B Testing
Analytics
Autoresponders 2.0
Email Creator and Intelligence
Email Forms and Templates
Inbox Preview
Landing Pages
List Booster
Responsive Email Design
Webinars
Claiming to be the world's largest marketing automation platform, MailChimp functions like a "second brain" and helps millions of customers. Small to large business owners can find their audience, engage customers and build their brand through MailChimp.
Sign up free at MailChimp or take a pick from different packages. Start growing your business for as low as $10 per month, the Pro Marketer package is $199 per month.
MailChimp takes your email marketing strategies to the next level. Features include Google remarketing ads, Facebook and Instagram Ads. It also has a robust abandoned cart automation workflow and product recommendation attributes.
Features:
A/B Testing
Campaign Archives
Custom Forms and Templates
Email Beamer, Designer and Templates
Client Testing
Email Delivery (by Time Zone)
Integrations
MailChimp Coupon Scanner
MailChimp Editor, Mobile, Snap, and VIPs
Merge Tags
Mobile Sign up Forms
Multi-User Accounts
Segmentation and Groups
SMS for Events
Social Profiles and Sharing
Spam Filter Diagnostics
Subscriber Profiles
Reports
B) Content Marketing Tools
Make your content work for you. Do this by making sure you focus on the most relevant topics, capture the interest of readers, and talk about the hottest trends in your industry. So to consistently achieve quality content, here are the top content marketing tools you can explore.
Curata is an online content marketing platform that aims to grow leads. It also increases revenue through proper content curation and management. This tool curates, plans, and measures the impact of your content. When done correctly, content curation helps battle an overload of information.
Eliminate content blind spots with Curata. If you are interested, packages include the Intro Package, Advanced, Enterprise or Custom Set. Get a demo now or contact Curata for package prices.
With Curata, you can curate content from anywhere on the Web. While browsing the Internet, you can curate text and videos, too.
Features:
Application Program Interface
Campaign Analysis
Content Management
Customizable Templates
Email Templates
Engagement Analytics
Real-Time Analytics
Social Media Integration
Tagging
Visual Analytics
Sniply is a content marketing tool that allows a marketer or blogger to overlay custom messages onto any article or content. A call-to-action (CTA) is very important. This tool gives you the opportunity to include CTAs with every link you share.
Increase conversions with every piece of content that you have. Start your trial free for 14 days. Then, get a monthly or annual membership starting at $29 to $299 or more per month.
A game changer for digital marketing, Sniply takes care of content curation and drives traffic to your website. Sniply allows you to add CTAs through the various Sniply types creatively. Customization of themes, codes, colors, positioning, shortlink, and a domain is allowed.
Features:
A/B Testing
App Compatibility
Content Curation and Management
Conversion Tracking
Custom Banner Image
Customization
Data Gathering and Analytics
Eye-catching Button
Email Capture Form
Hidden Sniply Bar
Hyperlink Texts
Retargeting Pixel
Themes and Templates
TrackMaven allows you to connect your activities to the desired results. This tool is a highly competitive and intelligent piece of software. It enables marketers to identify exciting topics and engaging content strategies.
Marketers and business owners can come up with optimized content strategies with TrackMaven. Campaign analysis is more efficient and comprehensive. Reports are also thorough and on-point.
Among its features are detailed data presentation, instant notifications, real-time benchmarking and visibility. It provides custom views and insights. TrackMaven also allows easy sharing and has a dominant search feature.
Your possibilities with this tool are endless. Get in touch with TrackMaven for pricing information.
Features:
Channel-specific Metric
Custom Insights and Views
Detailed Presentation of Data
Easy Sharing
Instant Notifications
Powerful Search Feature
Real-time Benchmarking and Visibility
Side-by-side comparisons
Tagging and Tracking
View Competitions Marketing Performance
Make your content work with Feedly. Feedly ensures that you have what you need to quickly achieve great marketing outcomes and better sales.
This content marketing tool is an alternative to Google Reader. The user of Feedly can easily organize, read and share the most relevant content.
Check out Feedly for as low as $5.41. If you want to see how it works first, you can always do a free trial.
Feedly includes unlimited sources, feeds, and boards. The latest features include keyword alerts, notes, and highlights. You can have new articles up to 10 times faster. Plus, you can save to Evernote, Pocket and OneNote.
Nothing else can help you create great content at scale like AcroLinx. This content marketing tool works on AI platforms using a unique linguistic analytics engine. It reads, scores, and guides your content creation process to make the output of higher quality. AcroLinx is a valuable piece of technology that provides only the best results.
The features of this tool include approval process control, document and permission management. It also helps you manage SEO techniques and lets you create your templates. Searching and rule-based publishing are also among its additional features.
The price depends on your requirements. Contact AcroLinx to get your quote today.
Features:
Application Program Interface
Content Management
Integration Tools
Powerful Content Analyzer
Quality Content Reports
Smart Guidance Wizard
Training and Support
C) Sales Tools
Did you think your marketing strategies would work by themselves? Let your plans and ideas perform better than expected with the help of these valuable Sales Tools.
Let your sales and marketing teams deliver the right content at the right time on any device. Seismic is a leader in sales enablement solutions for businesses.
Sales enablement refers to the processes of easing the difficulty of the sales team in finding relevant content. It is used by small to large businesses across various industries.
At Seismic, there is always something for everyone. Get the package that suits your needs by contacting Seismic.
Features:
Auto-Updates across the Platforms
Cloud-Based Software
Charts and Tables Updates
Content in Context
Customized Experience
Data BackUps
Generation of Content on Demand
Live Data Feed
Regular updating of documents
Seamless Integrations
Web-Based Dashboard
Stop worrying because Savo is here to strengthen your sales enablement requirements. With Savo, every engagement is a top priority. Savo offers thorough insights and a secured sales enablement platform to sellers. With this, revenue and income are sure to improve.
Offer your sales team access to expert coaching and content recommendations. Match your requirements with the right package from Savo. Prices are available upon request.
Features:
Analytics
CRM
Customer Portal
Digital Asset Assignments
Discussion Boards
File Sharing
Multi-Site Collaboration
Password Retrieval
Presentation Management
Proposal Management
RFP Management
Search
Docurated is another sales and marketing tool which provides the simplest and fastest way to find and use content. This tool is appropriate for complex organizations. It helps discover and analyze content the way it should be. Furthermore, content is rated and ranked based on relevance.
Contact Docurated and have them assess your needs. Also, you can try it out for free, first!
Features:
Collaboration
Content Analytics & Tracking
Content Creation and Curation
Platform Administration
Document Sharing
Dropbox Integration
Salesforce Integration
Sales and Marketing Analytics
Postwire will help your sales team be smarter, faster and better than ever. This sales management tool allows the user to create a place where it is easy to engage prospects and clients. This tool goes beyond emails, calls, presentations, and meetings. You will win over, retain and grow more customer accounts.
You can start your free trial now or choose from the different packages offered. Prices range from $5 per month to $1,000.
Features:
Activity Tracking
Built-in Templates
Content Analytics
Dedicated Success Coach
Email and Live Chat Support
iPhone-friendly Application
Marketing Automation
Salesforce Integration
Personalize your leads' experiences, increase conversions and accelerate sales with Oracle's Eloqua. This toolset allows you to design brilliantly personalized campaigns across email, display search, web and mobile channels. They offer lead management tools that can help you engage with your target audience while reporting you with real-time insights and analytics.
Eloqua will equip you with a centralized canvas from where you can arrange and organize your marketing experiences across paid and owned channels. The pricing packages for a monthly database of up to 10,000 contacts start from $2,000 for 10 marketing users up to Contract Sales Price for more than 1000 marketing users.
Features:
Analytics/ROI Tracking
Campaign Segmentation
Channel Management
Contact Management
Landing Pages/Web Forms
Lead Management
Lead Nurturing
Lead Scoring
Website Visitor Tracking
SalesFusion helps organizations generate leads and increase return on investment. According to SalesFusion, "Mid-size companies need to execute the same marketing initiatives as enterprises with fewer resources." That is why they offer robust and intuitive sales tools to keep up with the competition.
Intensify your marketing efforts and increase sales output through SalesFusion. To do this, you can either choose the Do-It-Yourself approach or the Do-It-For-Me way. Rates start at $700 to $1,575 monthly.
Features:
A/B Testing
Account-based Marketing
Built-in SEO tools
Campaign Strategy Planning, Execution, and Management
Campaign Management
CRM Integration
Customer Data Analytics
Drag and Drop Email Builder
Landing Page and Form Builder
Lead Management and Sales Enablement
Reports and Analysis
Webinar, Event, and Social Media Management
D) Lead Generation Tools
Lead generation is the process of attracting and converting strangers and prospects into someone who interested in your company's product or service. Some examples of lead generators are job applications, coupons, and online content.
HubSpot's Marketing Automation Tool for scaling growth is much more than email automation. With Hubspot, you can develop your email drip campaigns and put your lead nurturing on autopilot. Doing so is really simple because the platform allows you to build attractive emails without coding. You can also choose from different triggers, conditions, and actions in order to send the right message at the right time.
With HubSpot, you can also develop advanced and highly-targeted workflows in order to provide every contact of your list with the attention that they need. The system has a visual platform that allows you to preview your follow-up campaigns and multi-stage journey workflows in real time.
You can also use workflows to organize webhooks, score leads, rotate the leads to sales, and manage the big bulk of data plus more.
Best of all, HubSpot's all-in-one Inbound Marketing Software is completely free and can be used by your entire sales and marketing team.
Features:
Analytics/ROI Tracking
Campaign Segmentation
Channel Management
Contact Management
Content/Blogging Platform
Direct Mail Management
Email Drip Campaigns
Landing Pages/Web Forms
Lead Management
Lead Nurturing
Lead Scoring
Multivariate Testing
Referrals/Affiliates
Search Marketing
Social Marketing
Website Visitor Tracking
Track your customers across channels, learn what they want, and engage with them wherever they are, with Marketo, a unified marketing platform built to create lasting relationships and organize end-to-end engagement.
Marketo's interaction apps allow you to create and manage personalized engagement on multiple channels such as mobile, email, web and more.
Marketo's marketing automation tool also helps your sales team to identify the best prospects in order to close more deals by triggering the sales call at the right time. In the platform, you can also quickly assess which of your marketing channels brings you the most revenue, with options such as Marketing Analytics and Marketo Moments.
Using Marketo's marketing automation platform and pricing packages are available upon request.
Features:
Marketing Automation
Account-Based Marketing
Email
Mobile
Social Media
Digital Ads
Web Marketing
Marketing Analytics
Content
Sales Engagement
ROI Tracking
Campaign Segmentation
Channel Management
Contact Management
Email Drip Campaigns
Landing Pages/Web Forms
Lead Nurturing
Lead Scoring
Multivariate Testing
Referrals/Affiliate
IBM's Marketing Cloud is a marketing-as-a-service solution that is delivered to you through a public cloud platform. It includes email marketing, lead management, mobile engagement, and innovative data analytics system to help you produce more effective campaigns. With this platform, you can understand individuals, their preferences, and behaviors and use the data to create quality experiences through every stage of the buyer's journey.
This software and its pricing packages are exclusively available upon request.
Features:
Analytics/ROI Tracking
Campaign Segmentation
Channel Management
Contact Management
Email Drip Campaigns
Lead Management
Lead Nurturing
Lead Scoring
Referrals/Affiliates
Social Marketing
Website Visitor Tracking
An effortless and affordable software, iContact is brilliant if you want to connect faster with your target customers and precisely target them for better results. You can go much further than the basic email settings by creating personalized email experiences for your customers. The easy-to-use workflows will help you deliver the right content at the right time based on the customer's geographic position and activity.
With its advanced tracking an analytics dashboard, iContact will help you grasp what drives your campaign's success or failure and base your moves not on assumptions, but on real data instead.
The pricing packages start from $32 per month with the Essential package for unlimited sending for over 15k subscribers and rising up to $369/month for more than 23k subscribers for the professional package that can also rise for bigger enterprises with the price available upon request.
Features:
Customer Support
Drag and Drop Editor
Email Automation
Audience Segmentation
Responsive Email Layouts
Performance Reporting
Unlimited Users Per Account
A/B Split Testing
API Support
Subscribers List Management
Pre-Build Design Template Library
Reliable Sending with SpamCheck
Customizable Merge Fields
Subscriber Engagement Scoring
Custom Field Support
Sign-up Form Creating
Google Analytics Integration
Custom Design Work
ROI Tracking
Email Drip Campaigns
Landing Pages/Web Forms
Social Marketing
SharpSpring marketing automation helps marketers drive more leads, convert more leads to sales, and optimize marketing ROI with all-in-one marketing automation software. Their visual workflow builder allows you to be creative with your marketing automation strategy. You can also automate email drip campaigns in order to continuously engage with your leads and score them based on page visits and fill out forms all during the sales process.
Dynamic lists, buyer personas builder, email and data alerts, triggers and filters, 3rd party integrations, dynamic landing pages, multiple device tracking and much more all included in the pricing packages that that start from $450/month for up to 1,500 contacts for unlimited account users.
Features:
Analytics/ROI Tracking
Campaign Segmentation
Channel Management
Contact Management
Content/Blogging Platform
Direct Mail Management
Email Drip Campaigns
Landing Pages/Web Forms
Lead Management
Lead Nurturing
Lead Scoring
Multivariate Testing
Referrals/Affiliates
Search Marketing
Social Marketing
Website Visitor Tracking
Smoove is a marketing automation platform that will take your business to the next level by easily creating landing pages, managing your leads and send personalized email messages all from one place. The platform will provide you with user data that you can use to develop personalized email templates, drip campaign triggers, smart landing pages and targeted text messages for your contact list.
You can start with Smoove free for a list of up to 200 contacts and with a limit of 2000 emails sent. Professional packages start from $13/month for a list of 500 contacts with unlimited email sends.
Features:
Mini CRM
Personalized Fields
Quick Import
List Management
Dashboard
A/B Testing
Smart Design
Content add-ins
Data Metrics
Facebook Tab
Targeting Options
Texting
Sharing Options
API Mailing System
Smartphone Campaigns
Master Account
Implemented Pictures
Birthday Tracker
Auto Sequence Email
Shopping Page
Custom Templates
Designed Templates
Autoresponders
Responsive Emails and Landing Pages
Landing Page Creator
With Act-on, you can automate key marketing processes such as lead nurturing, list segmenting, lead scoring and distribution, that are vital for the success of your campaign in an effortless, point-click and drag-and-drop way. You can develop strategic campaigns that deploy automatically based on your pre-programmed rules.
Act-on pricing packages start from $900/month for a Professional package that has a minimum of 2500 active contacts and 3 marketing users to $2000/month for an Enterprise Package for 6 marketing users.
Features:
Analytics/ROI Tracking
Campaign Segmentation
Channel Management
Contact Management
Email Drip Campaigns
Landing Pages/Web Forms
Lead Management
Lead Nurturing
Lead Scoring
Multivariate Testing
Search Marketing
Social Marketing
Website Visitor Tracking
Automate the entire customer journey with visual marketing automation software that helps you connect, and stay close to your customers – Autopilot.
In Autopilot, you can organize and segment all of the information you collect about your leads and customers in one place. Integration and lead syncing is included, as well as capturing and tracking new leads from your website. Behavioral tracking is also a vital feature that lets you see when someone visits a page, clicks an email or fills out a form on your website.
You can try any Autopilot for 1 month free and charged a minimum of $20/month and above according to the package preferences that you'll choose.
Features: 
Analytics/ROI Tracking
Campaign Segmentation
Channel Management
Contact Management
Direct Mail Management
Email Drip Campaigns
Landing Pages/Web Forms
Lead Management
Lead Nurturing
Lead Scoring
Multivariate Testing
Website Visitor Tracking
An all-in-one and easy-to-use marketing automation and email marketing software that can help you to increase your revenue by delivering personalized messages on your marketing channels. This platform is an excellent choice for small businesses that can't rely on large teams for campaign deployment, but want to leverage marketing automation.
The SALESmanago basic package is free and allows you to market for up to 200 contacts. Professional package is worth $149/month and Enterprise package $2099/month.
Features:
Digital Body Language Monitoring
Video Body Language Monitoring
CRM
Sales Management
Email Marketing
Mobile Marketing
Website Marketing
Social Media
Ad Marketing
Marketing Automation Processes
Wizards
Website Visitors Analytics
Integrations and Connectors
API
A/B Testing
Lead Nurturing
Lead Scoring
Email Drip Campaigns
Landing Pages/Web Forms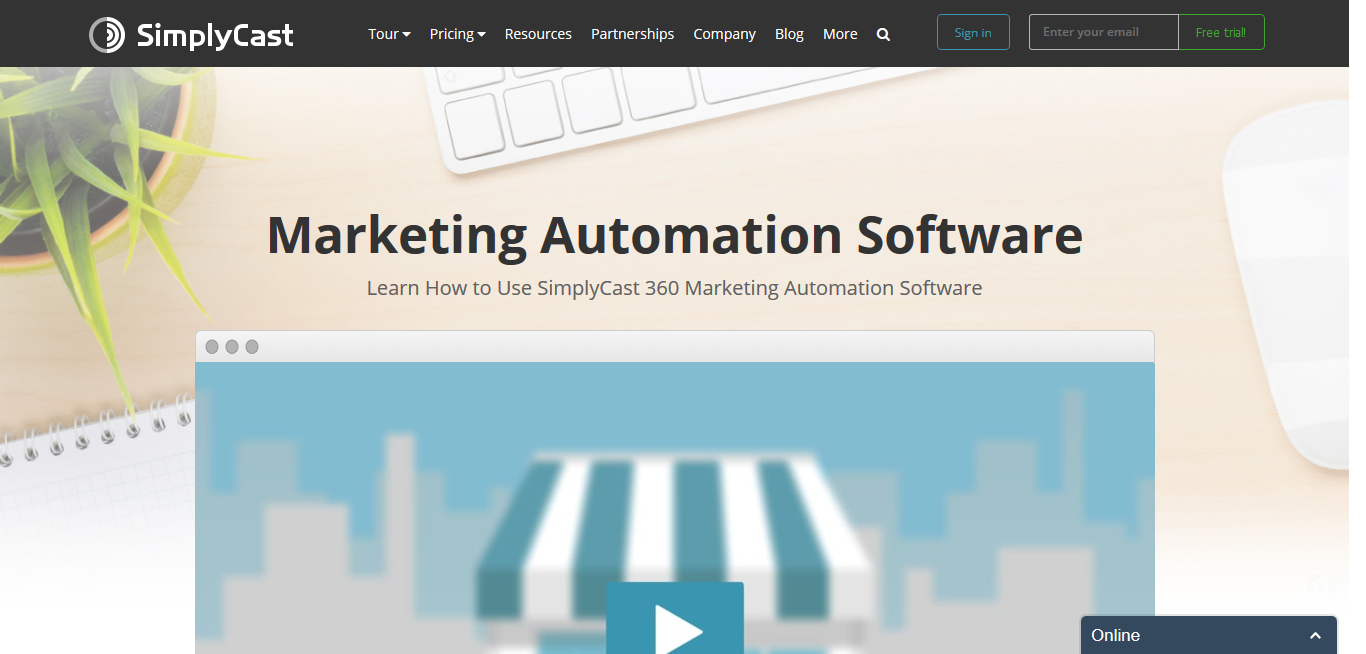 This is an all-in-one marketing automation software that enables you to build personalized and highly-targeted campaigns in minutes. You can automatically target individuals based on their specific needs and interests and create messages that are relevant and appeal to them that can help you build stronger and loyal relationships. Automated communication flows also save you time and increase your campaign effectiveness.
SimplyCast's pricing packages are available upon request.
Features:
Personal Targeting
Lead Nurturing
Lead Scoring
Personal Profiles
A/B Split Testing
API Connection
Click to Edit
Time Filters
CRM Integration
Decision-based Sending
Drag and Drop Interface
Easy to Use Editor
Multi-user Accounts
Customizable Selection Fields
Analytics/ROI Tracking
Campaign Segmentation
Channel Management
Contact Management
Email Drip Campaigns
Landing Pages/Web Forms
Lead Management
Social Marketing
Website Visitors Tracking
Ontraport's Marketing Automation Software enables you to combine your offline marketing campaign assets with your online assets to develop a completely integrated campaign that guides your leads and customers through the customer journey stages and your branding lifecycle.
With this software, based on your contacts' behaviors and characteristics, you can create targeted customer journeys that will generate results while maintaining customer relationships at the same time.
Ontraport's pricing packages start from $79/month for a Basic package and up to $497/month for an Enterprise package.
Features:
Business Automation
Campaign Builder
CRM
Ecommerce
Email Marketing
SMS
Postcards
Landing Pages
Marketing Automation
Marketing Tracking
Membership Sites
Metrics Dashboard
Analytics/ROI Tracking
Campaign Segmentation
Channel Management
Contact Management
Direct Mail Management
Email Drip Campaigns
Web Forms
Lead Management
Lead Nurturing
Lead Scoring
Referrals/Affiliates
Website Visitors Tracking
Turn your insights into competitive advantage and retain your best customers with SAS Marketing Automation software. With this platform, you can move from data to campaign design while delivering customized messages across different channels. SAS Marketing Automation pricing packages are available upon request.
Features:
Usability
Analytics
Data Management
Integration and Customization
ROI Tracking
Campaign Segmentation
Channel Management
Contact Management
Direct Mail Management
Email Drip Campaigns
Lead Management
Multivariate Testing
Social Marketing
Website Visitor Tracking
Campaign Monitor's marketing automation software combines ease of use with a powerful builder to help you deliver the right message at the right time. You can automate one or more of your marketing activities at the same time across the channels that you use to engage with your audience.
The pricing packages start from $9/month for Basic and up to $149 for the Premier package.
Features:
Email Marketing
Marketing Automation
Personalization
Contacts and Segmentations
Signup Forms
Analytics
Apps and Integration
Transactional Email
24/7 Support
ROI Tracking
Email Drip Campaigns
Lead Management
Lead Nurturing
Lead Scoring
Multivariate Testing
SendinBlue empowers businesses to build and grow relationships through marketing campaigns, transactional messaging and marketing automation. The platform combines a robust suite of email and SMS messaging services within a single, user-friendly solution.
You can try the software for free with 300 email sends per day for unlimited contacts, and the pricing varies up to $49/month for Premium. The Custom Enterprise package for over 350,000 emails/month is available upon request.
Features:
Contact Management
Campaign Creation
Email Sending
Campaign Tracking
Transactional Emails
Integrations
E-commerce
Support
Analytics/ROI Tracking
Campaign Segmentation
Channel Management
Contact Management
Content/Blogging Platform
Direct Mail Management
Email Drip Campaigns
Landing Pages/Web Forms
Lead Management
Lead Nurturing
Lead Scoring
Website Visitors Tracking
Using TargetEveryone's marketing automation software you'll be able to nurture your relationships by sending customized content to your contact list. With TargetEveryone you can easily create customized mobile campaigns with your offer, choose your targeted contact list and send an SMS with a link to a mobile webpage. Their native mobile apps and cloud-based solution provides you with the opportunity to monitor your website data and make adjustments on the move. This data can also be synchronized with your CRM through TargetEveryone's APIs.
You can start using TargetEveryone for free for 5 SMS and 5 email messages and advance to the Apprentice package which is 79 euros/month and the Master package which is 190 euros/month.
Features:
Analytics/ROI Tracking
Campaign Segmentation
Contact Management
Email Drip Campaigns
Landing Pages/Web Forms
Website Visitor Tracking
SendX is a re-marketing and re-targeting solution for E-commerce and Web Businesses that allows you to use email, browser push notifications, Facebook, Instagram & Google Ads to bring more leads and revenue for your business. To get the most of your ROI, SendX provides you with a toolset that allows you to smartly re-target your email subscribers and convert non-buyers into customers.
You can use SendX for free during a 14-day trial and pay $19.99/month for the Growth package and $49.99/month for the Business option.
Features:
Auto Re-Send
FB & Google Ads
Smart Drag & Drop Editor
Automation
Intelligent Banners
Smart Segmentation
Analytics/ROI Tracking
Channel Management
Contact Management
Email Drip Campaigns
Landing Pages/Web Forms
Lead Nurturing
Lead Scoring
Multivariate Testing
Website Visitor Tracking
With Mautic Marketing Automation is quick to learn and simple to use marketing software that you can utilize to build smarter campaigns faster. You can create lead nurturing campaigns, personalize messages, perform A/B tests and measure your results. With Mautic, marketing automation is simplified to the point where you don't need a dedicated and certified staff to run your campaigns.
You can start using Mautic for free and switch to the Pro version for $500/month.
Features:
Email Marketing
Website Tracking
Landing Pages & Forms
Automated Campaigns
Multi-Channel Communications
Lead Scoring
Third-Party Integrations
Dynamic Content
Contact Management
Account-Based Marketing
Progressive Profiling
Reporting & Attribution
FirstHive gives you the power to manage your cross-channel marketing activities, with no IT skills required. With its simple, easy to use features, it makes the process of triggering campaigns and tracking analytics – exciting and beautiful. You can automate your communications and score your leads based on their activities, as well as track your lead funnel, and make vital marketing decisions to convert them into customers.
The FirstHive Growth Plan starts at $2,500/month and for you need to contact the company for the Enterprise package.
Features:
Analytics/ROI Tracking
Campaign Segmentation
Channel Management
Contact Management
Direct Mail Management
Email Drip Campaigns
Landing Pages/Web Forms
Lead Management
Lead Nurturing
Lead Scoring
Social Marketing
Website Visitor Tracking
LeadSquared is a complete Marketing Automation and CRM Software for your business. With LeadSquared, you can organize your lead capture, lead management, sales management, and web/visitors analytics all from one place. It is a robust platform that is easy to use and is an excellent tool for small businesses and enterprises alike.
The Basic and the Standard packages are available for a free trial, while the Enterprise package for over 200,000 contacts is available upon request.
Features:
Landing Pages
Email Marketing
Drip Marketing
Lead Scoring
Web Tracking
Website Widgets
List Segmentation
Analytics/ROI Tracking
Contact Management
Direct Mail Management
Lead Scoring
Referrals/Affiliates
Search Marketing
Social Marketing
Website Visitor Tracking
InfusionSoft is one of the most popular marketing automation tools for small businesses. Their pioneering tools, that they used to grow their business such as Campaign Builder, CRM, and tracking, are now available to grow your business too.
With their straightforward drag-and-drop interface, you can create marketing campaigns that are customized for every promotion and business need. To make things easier, InfusionSoft also offers you ready-made marketing templates that you can choose from directly in their marketplace.
CRM integration, Data collecting, and the Landing Page Builder are another important features that can help you store customer information, analyze the data from your every email and build a landing page as the basis of your online campaign.
Prices start from $50/month for 1 user account up to 500 email contacts to $190/month if you have up to 50,000 contacts to work with.
Features:
CRM
Marketing Automation
Sending Unlimited Emails
App Integrations
Reporting
Payment System
Analytics/ROI Tracking
Landing Page Builder
Campaign Segmentation
Channel Management
Contact Management
Content/Blogging Platform
Email Drip Campaigns
Web Forms
Lead Management
Lead Nurturing
Lead Scoring
Referrals/Affiliates
Search Marketing
Website Visitor Tracking
Triple your leads with Leadformly. Do not worry if you seem to miss qualified leads from your website. Leadformly has a high-converting lead capture capability.
Leadformly can capture more leads and boost lead quality. What's more, this tool can segment your leads and further improve your ROI.
Capture your leads for free for the first 14 days, then choose a plan that works well for you. Packages start at $37 per month up to $149, depending on the number of leads you want.
Leadformly allows you to capture up to 25,000 leads per month. You can create unlimited forms or choose from a wide array of form templates. If you are not happy, you can cancel your plan anytime and get your money back.
Be the leader in conversion. Lead Forensics is a software that is turbo-charged when it comes to lead generation. Identify sales leads you never thought you could have by turning those anonymous website visitors into sales leads.
Lead Forensics will work on your desired budget with your end-goal in mind. Get a quote by contacting the Lead Forensics team.
With Lead Forensics, you can get real-time information and analytics from any website activity. You can combine the power of Lead Forensics with your current CRM to empower the sales and marketing teams.
Features:
Drip Marketing
Email Marketing
Lead Generation
Lead Management
Marketing Automation
Visitor Identification
Meet your future customers today with Growbots. This tool claims to be the smartest way of acquiring targeted customers. Growbots helps you generate custom contact lists in a short period with just a single click of a button.
Growbots starts at $400 per month of use. Get complete pricing details by providing your requirements to Growbots team.
Growbots gives you a list of prospects that meet your criteria. Some of the features include targeted prospecting, unlimited database access, and instant lead generation. This tool conducts A/B testing, segmentation, CRM integration, and knowledge sharing. Consequently, you only get a 10% bounce rate.
Features:
10% Bounce Rate
A/B Testing
CRM Integration
Custom Fields
Email Integration
Instant Contact List Generation
Knowledge Sharing
Out-of-Office Rescheduling
Reply Detection
Segmentation
Targeted Prospecting
Time-Zone Detections
Unlimited Database Access
Unlimited Follow-Ups
Generate more leads and increase sales with Salesforce. This cloud-based customer relationship management solution is used by thousands of organizations to grow their business every day. Salesforce is ideal for small to large companies because it is hassle-free and has a low set up fee.
A starter package cost $25 per month and goes up to $300 depending on the features and package you choose. You can also sign up for a free one month trial to see how the services go.
Salesforce allows you to track and manage contacts. You can personalize sales pitches and close more deals. You can automate repetitive tasks and improve overall productivity.
Features:
Analytics
Approvals and Workflow
Build and Run Innovative Apps
Chatter
Communities for Sales
Contact Manager
Dashboards
Email Integration
Forecasting
Opportunities and Quotes
Marketing and Sales Leads
Mobile to Stay Connected
Real-Time Visibility
Social Accounts and Contacts
Workflow
Move your prospects down the sales funnel through Pardot. Pardot is a B2B Lead Generation Marketing Tool helping marketers to exceed their lead generation goals. This technology lets business owners witness the success at every stage of the sales process.
Increase your leads and power your growth from $1,000 to $3,000 per month. Features range from standard, pro and ultimate.
Pardot provides advanced analytics, smarter lead generation, and streamlined lead management. It also offers email marketing, seamless sales alignment, insightful ROI reporting, and so much more.
Features:
CRM Integration
Email Marketing
Lead Nurturing and Management
ROI Reporting
Sales Intelligence
Social Media Marketing
E) Social Media Tools
More and more social media marketing tools are available nowadays to help manage social media channels. These tools are made to simplify, automate and provide the best Social Media results.
TweetDeck is a social media marketing tool. It started as an independent application and later was acquired by Twitter. This tool is a dashboard app manager for Twitter accounts. It captured 23% of the total market share back in June 2010.
Your browser and Twitter manager, TweetDeck is absolutely free. This tool is reliable and provides real-time tracking of various accounts.
TweetDeck allows a user, marketer or business owner to create a custom Twitter user experience, refine search results and manage multiple Twitter accounts.
Features:
Configurable Alerts
Effective Search and Filtration System
Intelligent Keyboard Shortcuts
Multiple User Support
Real-time Updating
Scheduled ContentPosting
HootSuite will enhance your overall experience when it comes to Social Media management. Claiming to be the leading social media dashboard, HootSuite can drive various social media initiatives, campaigns and customer engagements.
Enjoy a 30-day free trial. After, sign up for any of their packages which may cost anywhere between $19 and $499 per month.
Features:
Automatic Content Scheduling
Brand Mention Tracking
Employee Advocacy
Multiple Network Management
Numerous Contributors
Optimized Delivery
Social Analytics Reports
Minimize the hassle, save energy and cut costs with Buffer. This marketing tool helps you manage your social media accounts together in one place.
Individuals, small teams or large organizations can use this tool with free registration for the first month. Charges apply for each package. Prices range from $10 to $399.
Features:
2-step Account Login
Agency/Business Planning
Analytics and Insights
Customized Scheduling
Informative Social Analytics
iOS and Android support
Multi-media Format Sharing
Multiple Posts and Tweets
Profile Management
RSS Feeds Connectivity
Social Profile Sharing
Standard buffering
Stats Comparison
Team Collaboration (via administrator rights)
Sprout Social makes social media management, advocacy, and analytics software for businesses. This tool helps brands communicate with customers on social channels, collaborate across teams and measure the effectiveness of their efforts.
Monitor, measure and engage your social media channels with Sprout Social. Three packages are available – Premium, Corporate and Enterprise plans. All three include a 30-day trial. Rates range from $99 to $249 per month.
Features:
Advanced Customer Care Tools, Keyword Listening, and Reports
All-in-one Social Inbox
Approval Workflow & Audience Targeting
Build Custom Chatbots with Marketing Automation Tools
Campaign Tagging & Reporting
Competitive Benchmark Reporting
Complete Social Media Management
Custom URL Tracking
Group, Profile & Post-Level Reporting
Inbox Management
Includes 20 Social Profiles
Monitor Profiles, Keywords & Locations
Scheduled Report Delivery & Reporting API
Social Content Calendar
Social Media Management
Store Media in a Shared Asset Library
Tasking & Social CRM Toolset
Team & Productivity Reporting
Trends & Engagement Report
It is time to think differently. Kick start your uniqueness with Sprinklr. This social media management tool is referred to as the first unified customer experience platform for various businesses and channels.
Sprinklr allows enterprises to connect with customers from all corners of the digital world. Sprinklr allows you to customize the services you want to use. The cost of any Sprinklr package depends on your requirements.
Features:
Command Center – Device Independent Display Infrastructure
Mobile Suite
Social Asset Management, Automation, and Reporting
Social Engagement, Campaign Management, and Publishing
Enterprise Integration
Listening Insights and CRM
Sprinklr Certifications
Wrapping Up
Different marketing tools are already right in front of you. So use them to your advantage to help improve your performance. These tools may fall under different categories such as Email Marketing, Content Management, Lead Generation, Sales, and Social Media Marketing.
Marketing Tools save you time, effort and put your budget into place. If you are considering automating your sales and marketing processes, now is the right time to do it. However, do make sure that you understand how everything works and how it will affect your business.
---
No matter how small or large your business, you can enjoy the benefits of various Marketing Tools. Let DevriX be your partner in building and maintaining these technologies for you.