Making your company visible online is essential in the modern market. Some businesses make the majority of their revenue from online sales, which means you need to be ahead of the competition when it comes to search engine results. What's the best way to do this? Through creating engaging B2B posts and using keywords to get yourself noticed.
Anybody who has ever worked in digital marketing will be very aware of the importance of keywords. In fact, anyone who simply wants their website to climb up the ranks will be well aware of them, too. Just because we know that keywords are vital for a website, though, doesn't mean that we know the best ways to use them.
This is why keyword research is so important. It's not enough to randomly stick in words that you think are suitable here and there. You have to explore and find the words that you can use for your content that will push you up the search engine results pages (SERPs).
If you are planning a blog with the intention of pushing sales of video call equipment, don't use the phrase 'buy video call hardware' over and over again. Try something different. You could create an article relaying the ultimate video conferencing definition. Use this idea to insert variations of important, well-researched keywords.
Customers using Google to search for the products they want often put retailers in direct competition with one another. B2B firms are not exempt from the contest, either. The more that businesses grow, the more they turn to the internet for answers. This means that it's critical for your company to appear at the top of the search results. Doing this not only helps build customer relationships, but it lets other businesses know you are a reputable company, too.
You do this by using the right keywords and doing the right research. Here is how to get the most out of keyword research to make your B2B company reach the top.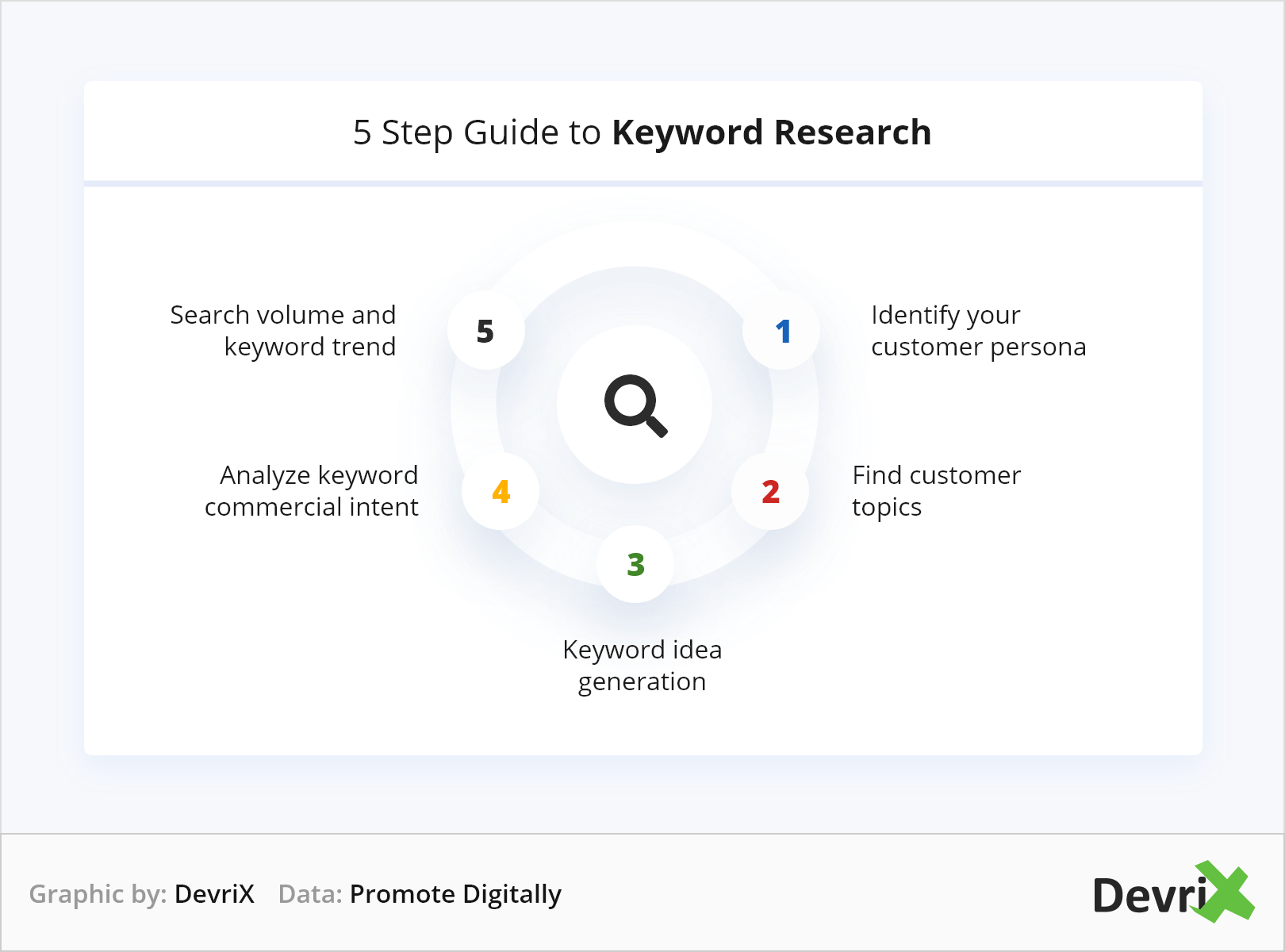 Create a Keyword Strategy
Whether you are implementing a way to use fax via email or you are planning an email marketing campaign, you always develop a strategy. Using keywords to boost your company is no different.
It must also be considered that, unlike B2C content, B2B is much more focused. Your keywords need to hone in on what the key decision-makers for the businesses you serve will be looking for. Don't treat your keyword campaign as though you are targeting a broad B2C customer base.
What this means is that you need to plan your keywords properly to get the best results out of them. However, for a lot of businesses, their content doesn't always get as much traffic as they hope. Even if the content is engaging, has fresh content ideas, and is full of information. A big reason why this happens is that the keywords contained simply don't fit and aren't strong enough.
Therefore, when a user types in a question or phrase, your content needs to have the most appropriate words to make your site come up aces. The best way to do this is to research keywords that link to your content. The words then have to be analyzed based on your company, what you offer, and who your audience is.
For example, let's say you are a B2B tech company creating content about deploying AI. Despite being related, using a keyword phrase like "wonderful computers" won't help drive people to your site, as this isn't the sort of thing people tend to search for.
However, if you used "benefits of machine learning" as a keyword, then this is more likely to send people to your article. That's because it's the sort of phrase people are likely to use when looking at this topic.
But don't just use phrases that you think would work. You need to do genuine research and use the proper tools out there.
This takes us onto our next stage.
Use the Right Tools
As with everything in the modern age, there is a tool, app, or piece of software to help us find the right keywords we should be using.
Depending on the needs of your business, there is some very useful keyword planning software out there. SEMrush, for example, is a great paid tool for web content and even allows you to analyze competitor's work.
There are many other handy paid tools for your business to help with keyword research, too.
Such example is Google Ads Keyword Planner. This is a free tool that is used primarily for optimizing keywords for use in Google Ads. It works for both SEO (Search Engine Optimization) and PPC (Pay Per Click), though. As it helps businesses set up and use paid search ad campaigns, it is great for B2B content.
It doesn't only suggest useful keywords, it tells you how high the competition is with each alternative. This means you can filter and choose the words you think will work best for your content—and budget. Of course, you don't have to be doing a paid campaign to use the tool, but if you are, then it allows you to do a much more specific search for keywords. Including letting you see how often those words are used in Google searches.
Another great free tool that Google provides is the Search Console. This allows you to track the organic performance of your website and check for any technical issues. This tool in particular is designed for SEO data and lets you discover which keywords will bring in more traffic to a site. Search Console also helps business owners discover how people are coming to their website. This means you can alter your keyword strategy accordingly.
It doesn't matter if you are writing about house plants or booking software, as a B2B company, the right tools will provide you with the right information. Including telling you how well your keywords are doing along the way, too.
Understand User Intent
To use the right keywords, you will have to think like your users or site visitors. However, at the same time, you also want to consider your niche and think of the language you can use that will drive people to your site specifically. What keywords might they start with as a search and what keywords will ultimately lead them to your site as they narrow down their search? Think of this like a funnel, taking you from using broad keywords to specific ones.
Also, as a B2B company, think of the type of content in which to plant your keywords. Industry stories, newsletters, and Linkedin content, for example, are ideal strategies for businesses looking to sell to other businesses.
Say you are an IT firm working with business clients, and you are creating a blog on how to integrate different types of communication on the internet. The first search a user may look for is "internet communication". That search suggestion may bring up way too many results. So, think about the words they may type in to narrow down results.
In one case, it may be "how to send fax from computer". If it is, you need to start thinking about how you could target that keyword. Keep going down the funnel until you get to the 'fulfilment' stage. This is the stage that makes them choose your site.
How to Get the Best Results
Try to consider the points that set you apart from other businesses and add that into your keyword usage. It could be that you offer free shipping or free installation. Maybe you customize products or have a 3-year-guarantee.
Whatever your business type, explore all USPs (Unique Selling Points) and functions, and use them to reap the most effective keywords. This all starts with a "seed". A seed, in this sense, is a specific word or set of words that cover all aspects of your company's many facets.
Write as many of these down as possible before using your keyword planning software. Think of variations of each word to create a series of branches that cover all possible outcomes that could be typed into a search engine.
Now you have your list of words, type them into a keyword research tool. This will let you see how popular each term is and how well you could potentially rank on SERPs (Search Engine Results Pages) related to them.
You might even want to try specifications such as geographical locations, material, demographics, or services. For example, say you are a vegan shoe supplier based in the north of England. Think of all the ways someone might intend to seek faux leather shoes.
Assess the potential popularity of each variation, such as 'faux leather', 'fake leather', 'leather-free', 'vegan shoes', and 'synthetic leather'. Typing each seed into a keyword planner can be a bit trial and error. But these processes often work wonders in the long run.
These are simple ideas with good results that are easy for you to do as a B2B owner. It also means that you can target a specific audience with your products. All this will help to drive traffic to your site.
Bear in mind that whatever content you write needs to match with your business. There is no point in adding in "free delivery" when you don't offer this service to clients, simply because it's a popular keyword suggestion. This will just create high bounce rates and will put people off looking at your site.
Part of living in a data-driven culture means that there are ways to analyze the success in what we do. This includes measuring the success of keywords. Google Analytics is great for this.
If you are not getting enough organic traffic to your website, you need to conduct better keyword research. Optimized content will draw in visitors and potential leads. It will also keep that bounce rate as low as possible. If people are leaving your site straight away, it's pointless, wasted traffic.
Google Analytics will tell you the bounce rate for the content you post. The best thing you can do to get good quality traffic is to use high-quality keywords. This helps people trust your company and know you can provide them with what they want.
Track Your Results
Leading on from this, tracking results should not be overlooked.
Like with all business processes, taking a retrospective look at campaigns will help improve future endeavors. After all, how can you truly measure success without analyzing the best-performing aspects?
Not only do you get a clearer image of customer behavior, it also helps set you up for next time.
Say, for example, you created content centering around communication methods, with the intention of selling software to other businesses. Which keywords were the most pivotal in driving organic traffic to your website through this content? Did "email tips" perform better than "fax definition"? Or vice versa?
Tracking results will give you a greater understanding of where to focus with your next SEO efforts.
Moz and Google Analytics are just two useful tools for tracking results. They allow access to data that can ensure future content stays relevant. As well as this, you can monitor the success of competitor's keyword campaigns, which can inspire any future content for your business.
Let's go back to the communication methods content example. Perhaps it did not perform well at all compared to competitors selling the same product. Another business, however, had great success with an article about free web conferencing tools. It is similar content, just with more relevant keywords.
Using this information enables you to rethink your strategy and take a different approach. It helps you keep up with the competition, too.
Once you understand how to use keywords, they are a great way to drive traffic to your B2B site.
The key points to remember are to think like your clients and consider what they would search. Then use keyword research tools to get the best outcome. Keep your content and keywords relevant. And don't forget to track results.
To get the best results, keep your clients at the heart of what you do, and the rest will follow.
Otherwise, have fun making that content!