Headlines are the number one factor that helps consumers decide whether or not to click on your web content. If you don't capture your audience's attention with the headline, the chances are, you will never get web traffic from them.
As the main indicator for the context of your content, headlines have the power to drive traffic to your website, but unfortunately, they also have the power to push people away. On average, 8 out of 10 people will read headline copy, but only 2 out of 10 will read the rest. This is the key to the power of headlines, and why they can determine the success of the entire content.
Why Do Good Headlines Matter?
Headlines are the first line of your copy. They are often the first impression that a reader has of your site, headlines invite readers to learn more or they can push them away. Even if the rest of your content is high-quality, if the headline is bad, only a small part of your target customers will probably read the entire piece.
So, publishers need to make sure they are familiar with the principles of headline writing.
Basically, a headline can make or break an article. This line sets the tone for the entire copy and if you manage to bring in more readers, you can increase the number of leads and sales. If not, you'll need to examine why the headline is not working.
The main purpose of your headline should be to make the audience read the first line of your content. If you want to convince people to read the first line, you need to create a compelling headline that can attract your audience.
So, how do you write an effective headline? Stay tuned to find out!
Principles of Headline Writing
There are four major rules of writing a captivating headline.
1. Be Unique
If you want to write an irresistible headline, the first thing that you need to do is make it unique. If you write headlines that are similar to others in your industry, then you can't stand out from the competition.
If you sound like everyone else, customers will probably ignore you. But if you create something useful and original, your audience will be delighted.
2. Make It Specific
In order for your headlines to be unique, they have to be specific. You should provide the audience with enough context that will make them want to learn more. If your title is not distinctive enough, your customers won't even be interested in seeing if what you wrote has value or not.
3. Encourage Urgency
Whenever possible, you should communicate a sense of urgency in your headlines. Something that pressures readers to start reading or feel like they are missing out.
What Are Search Engines Looking For? 17 Facts About SEO You Need Right Now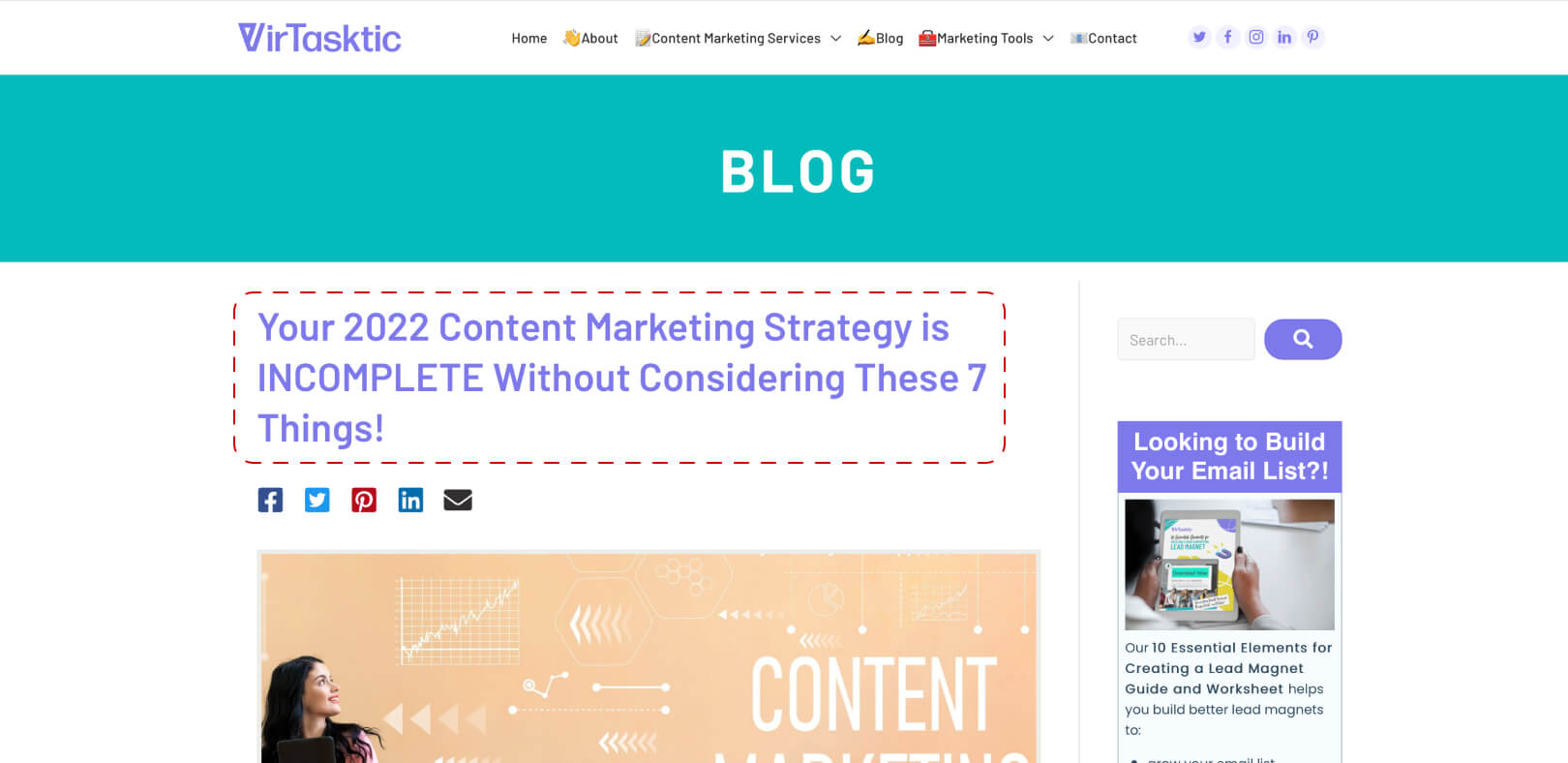 When a website or business owner reads this headline, he/she thinks "Hmm, I better look into this because my SEO might not be hitting the mark…I have to find out!"
That's how the sense of urgency works!
4. Be Useful
The ultimate tip, not just for headlines, but for content marketing overall is to serve a purpose! If you don't deliver value straight from the headline, people will not have any reason to continue reading the article. People want to know what is the benefit of reading your article – the value they'd receive after reading it.
How to Refresh Your Growth Marketing Strategy?
The main benefit that we've promised here is a faster increase of the social proof for your business.
Writing Your Headlines
Now that we've discussed the main tips for writing a captivating headline, it's time to start writing your first headline.
Headline Generator to Stimulate Creativity
Sometimes, writers and marketers lack the inspiration that they need to produce a decent headline. There are many article headline generators that can help you develop content ideas and titles:
By using a content headline generator, you can come up with different ideas for unique titles. They should serve you as the first step towards attention-grabbing headlines, and nothing more. The tools can help you produce content titles faster and even improve your existing content titles.
Be Solution-Oriented
Don't sell the product, sell the solution to the problem. When you write your content, from the beginning, your focal point must be on your customer's problems, wants, needs and solutions.
For example, let's say that the customer has problems with boosting the loading speed of their website.
Right from the start, you need to focus on the solution:
Show your readers the tools tactics to solve the problem. And that you are focused on solving the problem.
Conduct A/B Testing
As mentioned, it is of huge importance to get the attention of customers within seconds. Actually, within 2.6 seconds. In this short moment of time, people read the headline and decide whether to click and explore further. They also think about how valuable your content is and whether or not it will be of any use in their work or life.
You need to know what type of headline will work the best for your target audience. An excellent way to assess that is by testing different headlines for the same copy. You can try to post the same link with a different headline for Twitter and for LinkedIn. Assess which headline will be most effective with the audience and learn what works and what not.
Research the Top-Performing Headlines in Your Industry
If you know your industry leaders and competitors that have an excellent content marketing strategy, the chances are that they're excellent when it comes to formulating content headlines too. What performs for them can work for your business too.
You can generate similar headlines and even improve the best headlines in your industry. To do this effectively, you can use one of the best content marketing tools, BuzzSumo.
BuzzSumo allows you to observe your competitors' content and learn what works best for them. The more shares a given post got on social media, the more effective the headline is. People clicked on those headlines, loved what they've read and passed it on.
That can happen with your content too, you just need to learn from the best and emulate the way they form their headlines with a bit of your own flair.
Question Headlines
This is a straightforward type of headline where you ask questions. For example:
The answer to the question "What Is a Content Audit and How to Go About It?" is written in the article. If you googled it you're interested to learn more about marketing automation, you'll click on this title.
Benefit-Focused Headlines
A benefit-focused headline provides the reader with a fragment of what he/she will get after reading your content.
For example, here's an article about lead nurturing strategies that can boost sales:
The person that will read the article will know the strategies and use them as a way to increase sales numbers.
You also may notice that this headline contains a number. As a matter of fact, headlines with numbers can generate up to 73% more engagement than the headlines without them.
How-To Headlines
How-to is one of the most common questions that someone can ask on Google and in real life too. With a How-to headline, you can offer the reader useful advice on how to do something much better.
For example, here's an answer on how to create a clever 404 Error page design:
In this article, there's information about the how-to and actionable steps about the how-to. The person that will read this will learn how to use create a clever 404 Error page design.
List Headlines
A headline that incorporates a list contains a round-up of insights about a certain topic.
For example, here is a list of 10 easy eCommerce strategies to help you reach more customers:
It's a long piece that includes content from different people and their links as well. You can formulate your listicles in different ways, like:
(Number of) Ways
(Number of) Things
(Number of) Steps
(Number) Tips
Top (Number)
The (Number) Reason
List headlines and content are effective and can get the most engagement and shares on social media. These titles let the user know that the content is skimmable and easier to read, so they definitely will want to explore it further from the headline.
Using the Proper Words in Headlines
At the beginning of the article above, it was mentioned that you need to form a connection with readers right from the start. Well, there's no better way to form a connection than using the right words to make people emotional towards the content. These words have the power to make users click on the article and learn more.
Same as emotional phrases, power words are an excellent way to tempt users to take action from your headline.
Questions to Ask When Writing Content Headlines
When you learn what type of headlines work the best for your customers and your web traffic, you'll need to ask yourself the following questions right after you formulate your headline:
Is the headline accurate?
Does the headline fit with the context?
Is the promise in the headline compelling?
Does the headline offer any benefit to the users?
Too many or too little words?
It doesn't matter whether you're just a beginner in content marketing or experienced professional, it's never a bad thing to double and triple-check your headlines and content.
Wrapping Up
To conclude, headlines are the number one factor that determines whether users click or not on your content. If you offer users boring or generic headlines, you can't capture their attention and you'll miss out on potential web traffic for your quality content.
Your content headlines are crucial for good traffic! So, start developing your topics and write headlines that stick with your audience and lure them to learn more. It will be a huge win not just for your website, but for your customers as well.