Like it or not, online shopping is the new normal today. Even the hard-core fans of window-shopping and in-person deals have now been conquered by the advantages and benefits of the digital shopping experience. But the thing about online shopping is that once hooked, people can't get enough of it. And social commerce might be just the fix for their cravings.
The concept of selling products on social media is not new and has been out there for a while, but recently started getting more popular. It works both for businesses that haven't established a rock-solid online presence yet and for those who are already digital and exploring ways to boost their revenue.
What Is Social Commerce?
In a nutshell, social commerce is a type of online shopping where the user can make a direct purchase through a social media platform, without leaving the app or visiting a third-party website.
For users, social commerce is a tempting opportunity to make lightning-fast impulse buys and follow favorite influencer recommendations in a heartbeat. They can complete the whole purchasing process without leaving the social network loop. From discovering a product, researching a brand, and checking reviews, to adding products to the cart, payment, and completing the purchase, it all happens in one place.
For a business, social commerce is an invaluable opportunity to reach your audience where they hang out the most – on their favorite social platforms. A targeted group of potentially qualified leads all gathered at one place is a happy hunting ground for businesses looking for new customers. It's a space where you can simulate the real-life shopping experience and build valuable lasting relationships with your customers.
If your brand is already active on social media, and it's hard to believe it isn't, you have a community of dedicated followers, interested in what you offer. All you have to do is take the opportunity and grow revenue.
Prominent Platforms for Social Commerce
With the development of technology and the growing possibilities for more sophisticated cross-platform integrations and in-app solutions, social media shopping opportunities are evolving.
Here's a list of the most prominent platforms where social commerce has already been introduced and to what extend:
Facebook
Facebook is the cradle of social commerce. The platform not only enables businesses to showcase shoppable content. It goes to the next level and provides the opportunity to build a fully functional single-platform online shop.
Businesses can set-up and customize their shop to fit their brand's personality, add a catalog divided into product collections, and maintain real-time communication with customers.
The Facebook shop is featured on the brand's business page and easily accessible to its audience.
Native checkout, however, is available only in the United States and to a limited number of other sellers. Other businesses need to have their products available on a third-party eCommerce website, where customers will be redirected for checkout.
Instagram
To have shoppable content on Instagram, you need to have a Facebook Page for your business and a catalog of items on an eCommerce platform. You can also manually build a catalog through Facebook Business Manager. Your Instagram products are then integrated from there.
It might seem complicated at first, but it's worth your time. Because talking about social commerce, Instagram is the real deal.
According to the company, 70% of people who enjoy shopping turn to Instagram for ideas and product recommendations, and 87% claim that an influencer had an impact on their shopping decisions. And as we know influencers are crowding the platform en masse.
But we don't need Instagram to tell us this. Everyone who is on the platform is there to become a star, influence others, or get inspired by their style. And that's what makes it the perfect social commerce platform for a business.
The buying process is simple and easy, and in a few clicks, the user can complete a purchase. And then continue browsing, never missing a beat.
Moreover, Instagram is evolving to catch-up with competition. The company has launched Reels, a feature similar to TikTok. And, of course, the content in Reels videos is also made easily shoppable.
The best thing about Instagram is that it provides the genuine social commerce experience. In some cases, you don't even have to create content yourself – you can utilize user-generated content (UGC) to promote your products. And as it has been established, customers always trust other customers more than they trust brands. But we will talk more about how to utilize the true power of UGC on Instagram later in this article.
Pinterest
People go on Pinterest to seek inspiration and browse beautiful stuff. So making the experience shoppable is not an opportunity to be missed.
To set-up a shop on Pinterest you have to meet the platform's requirements. Make sure you provide detailed information about availability, price, delivery options, and product specifications. Pinterest doesn't support in-app checkout yet, which means that to sell there, you need to have an eCommerce shop set-up on another platform.
You can acquire a "Verified Merchant" badge and build a shop in your business account, but in order to complete the purchase, customers will be redirected to your eCommerce shop.
Although Pinterest doesn't check all the social commerce boxes, it is still a prominent platform you should by all means consider. It's a place where your brand can get discovered by a wider audience of customers, searching for products similar to yours. And who knows, with the fast development of the market, an in-app checkout option might already be in Pinterest's plans.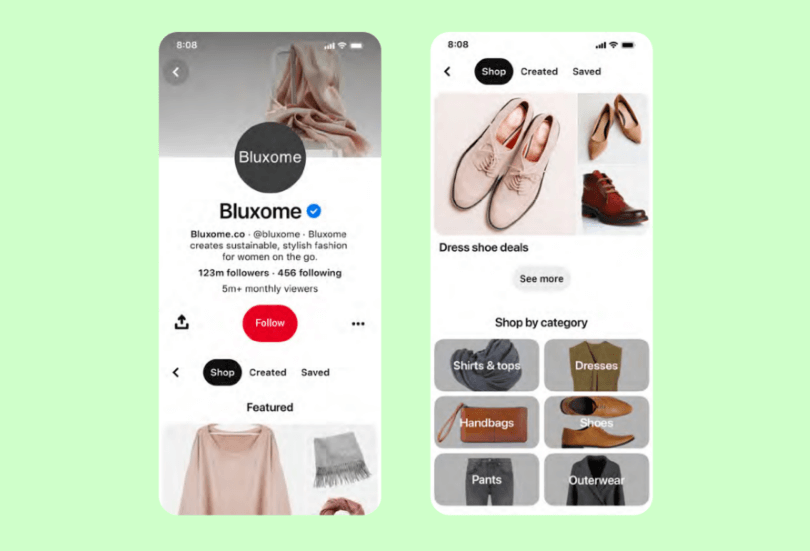 TikTok
TikTok is the rising star of social commerce. With Millenials and GenZs hooked and more than 800 million active users, the platform is working hard to make the best out of its popularity.
Although it doesn't support a fully in-app purchasing experience with a native checkout yet, TikTok has been busy experimenting with social commerce features.
The "Hashtag Challenge Plus" introduced shoppable sponsored hashtags featured on the Discover page of the platform. The program allowed brands to launch sponsored hashtags and feature lists of products, available for an in-app purchase.
"Shop Now" buttons in video ads are also an opportunity for brands to promote content and make it shoppable.
Another big step was the recent partnership between the social platform and Shopify. Brands can now build TikTok video product catalogs directly from their Shopify dashboard.
Livestream shopping was initially tested in December 2020 in partnership with Walmart. The idea is to enable users to buy products – such as apparel, accessories, cosmetics, and etc, visible in videos, via pop-up "buy" buttons during the livestream, or through shopping lists available after the streaming has ended.
With this fast pace, the platform is exploring shoppable opportunities counting on the devotion and eagerness of its users to embrace them. Therefore a native checkout shouldn't be far off in the future. Furthermore, TikTok's Chinese super-twin Douyin has had an in-app store since 2018, and it's doubtful the western version of the social media platform will wait much longer before following in its steps.
Twitter
Although social commerce is a tempting opportunity to grow revenue for both businesses and social media platforms, it is not everyone's piece of cake.
Twitter, for example, tried it back in 2015 but after a few attempts to make it work gave up and is currently out of the game.
So you are probably already wondering – is social commerce any good for your specific business?
Well, it depends largely on your target customers.
Is Social Commerce Right for Your Business?
If the market of your products is younger people who are known for practically living on social media platforms, by all means, social commerce is something to dive into (if you haven't done it already).
But what about other businesses with a more mature audience?
Traditionally, social commerce is considered the territory of millennials and Gen Z. And not more than a year ago it was believed that older people (yeah, if you are 35+, I'm sorry to inform you, but we are considered "older people" now) restrain from such activities.
But with people of all age-groups familiar with online shopping now, and spending more and more time on social media, things are looking good for social commerce.
If your audience is on social media, there is no reason you shouldn't join them and make your products available with just a click.
One of the most valuable benefits social commerce presents to retailers is that it cuts the customer journey short and provides the option to shop in a heartbeat. That's called impulse shopping and it's the driving force of spending money on social media.
Impulse shopping is a universal therapy and letting your customers have a go at it with the least obstacles in the way can make both sides happy. And, once again, although more popular with younger generations, it is not a stranger to more mature audiences as well.
So how to approach social commerce in order to optimize your product catalog performance and grow revenue?
1. Explore the Benefits of User-Generated Content
Product reviews and shared user experiences inspire people to make purchases more than anything else. And in social media, UGC is everywhere.
You can even invite your customers to create content and then use it to compose directly shoppable posts. This goes especially for Instagram, where almost everyone wants to be a star or influencer, and people will be more than happy to have their name associated with their favorite brand.
You can encourage UGC by launching product-related contests and inviting your followers to participate with original content. It can be about photos involving your products and how people use them, unboxing stories, video challenges, and everything you can think of that fits your brand's profile and image.
If you play your cards right, even a negative UGC can be turned into a redemption story if you learn from your mistakes and are open to suggestions. This shows that you care for your customers and followers, and not only about profits.
Also, make sure you don't miss opportunities! Monitor your customers preferred social media platforms and keep an eye for viral or unusually captivating content, featuring your products.
For example, a video of a man skateboarding with a soft drink in his hand and lip-syncing to a popular song became viral on TikTok and in just a few days got more than 26.9 million views. This popularity attracted media attention and brought to light the story behind the video – the guy's truck had broken down, so he had to ride his skateboard to work. The company manufacturing the drink noticed the increase in sales after the video went viral and reached out to him. They gave him a free truck, loaded with free drinks, and a new skateboard. He became the brand's most popular influencer.
We are not saying that you have to start giving away trucks to all your popular followers, but the moral of the story is that UGC can be a powerful tool in your promotional arsenal. Also, showing that you care for people is an even more powerful one, especially on social media.
2. Make Irresistible Product Photos
A picture is worth a thousand words, but on Pinterest and Instagram, it's worth even more. "Seductive" product photos are the key to sales on social media.
The good news is that nowadays you don't need to make a big investment to shoot like a pro. There are many product photography online courses available for free, consider joining one to learn the basics and up your images game. Once you are more familiar with the technical stuff, you can take spectacular pictures of products even with your phone.
If your business is a larger one, you can invest resources in professional services, but remember that what social media users crave is the balance between casual, natural, art, and polished. So try not to overdo it.
On your Pinterest Shop, however, you have to add only photos showing a realistic representation of the product. Keep the artsy pics flowing to show the beauty of your products and attract users to your channel, but make sure you also have business ones to stay in line with the rules.
3. Shoot Product Videos
Product videos are a great way to inspire customers to buy. They can be both creative and show a realistic and comprehensible view of a product.
With the TikTok video obsession and Instagram's Reels following the trend, the format is a must-have for a social media commerce success.
However, to make great videos that inspire and sell, you have to know your audience well and be creative. Find out what moves them, how they enjoy themselves, and what they dream of. Then explore how your products fit into the picture, and highlight it in relatable videos.
Here are some video ideas for shoppable content:
How products are made.
How products work.
How products look in everyday life.
Unboxing videos.
Behind-the-scenes glimpses of product photoshoots.
Customer stories told on video.
Product deconstruction and building videos.
Ok, the last one might sound a bit confusing, but bear with us. Remember how actor Henry Cavill (a.k.a Superman and Geralt of Rivia from The Witcher series) single-handedly built a gaming computer back in 2020? Probably not, so here's a reminder:
View this post on Instagram
Why is this video relevant? Well, imagine if this was your company's product he was building from scratch. That's right. And it doesn't necessarily have to be a Hollywood superstar doing it – a popular influencer will do too. The point is that they are doing something extraordinarily and relatable at the same time, and your product could be in the center of it.
Video is the best media to show how your brand's vision and your customer's personality meet. Use it wisely and your products can become even more desirable.
4. Get Ready For Livestreaming
China is the cradle of social commerce, and there is a lot an aspiring social vendor can take out of China's playbook. For example, this is where livestream shopping started. And now it's a thing on Facebook, Instagram, and TikTok too.
Although the trend is still making its way into Western society, it's worth keeping an eye on. Live social media shopping is a huge thing in China and the market there is growing at a mind-boggling pace. The rest of the world has so far been actively borrowing ideas from the Chinese on how to make social media content shoppable. In line with this, it's safe to assume this opportunity will also be a hit sooner rather than later.
But what exactly is livestream shopping, you are wondering?
Livestream social media shopping is when a brand does a live video presenting its products on a social media platform and its followers can shop directly in the comments. The presenter is usually the business's CEO, an influencer, or a popular figure, who showcases a product and its features. Meanwhile, active users can ask questions about the item and receive answers in real-time. Most brands offer attractive discounts during the live video, in order to encourage customers to buy the products right away.
If the platform doesn't have integrated in-app checkout (although most Chinese apps already do) there are third-party apps that can be used to make purchasing possible.
5. Join Forces with Influencers
Although many people are starting to become mindful of trusting influencers, they still are a force to be reckoned with on social media.
But trying to catch the big fish is not always the best strategy when it comes to influencer marketing. Recent social media findings show that micro-influencers are far more beneficial partners to businesses and their recommendations have a greater impact.
Consider joining forces with a few or more small-scale social media stars with an audience of followers interested in products similar to yours. Get them involved in your strategy by using some of the advice in this article and develop new ideas based on their personal profiles and your brand's individual online image. This can give your product sales a huge boost and do wonders for brand awareness.
6. Mind Your Pricing Strategy
Social media buys are rarely expensive ones, so when building your product catalog, think of items that are not only attractive but affordable.
Make sure to occasionally offer exclusive discounts, available only on your social media shop. Shopping shouldn't be about discounts only, of course, but nothing pushes people's impulse to buy like a limited time offer at the tip of one's fingers.
However, although considered suitable for low-cost products mostly, social commerce has benefits for businesses offering high-end products as well. A catalog of smaller shoppable items can work to introduce a brand to potential customers who will later buy the more expensive products. Or it can also be a way to keep customers engaged.
For example, if you are selling cars, there is no way you can sell one on Instagram. But you can make a social media shop offering original branded accessories, thus building brand presence and engaging your followers in discussions. This will bring in new leads and, potentially, new customers.
7. Stay in Touch With Your Audience
In a way, social commerce is like the true digital version of brick-and-mortar shopping where the vendor and the customer have a real-life interaction and share an experience.
The most important thing on social media is to maintain humanity. When you are not face-to-face with your customers, sometimes it's easy to forget that there are real people behind the usernames and profile pictures. Showing a personal touch is what makes your brand more human. And this does not only make you more relatable to your customers but will, without a doubt, help you grow revenue.
Be open to communication, take part in discussions, always answer reviews regardless of whether they are good or bad. This shows you care about your customers and that you are ready to provide an impeccable user experience.
Discussions let you gain valuable feedback. Use it to improve your products and services and don't forget to always thank your customers for their help and valuable input.
Also, on social media, it's all about visibility, and discussions keep content in the loop.
Recap
Social commerce is an important step in building your online presence. It's also a promising way to explore your eCommerce strategy.
Your customers are already hanging out on social media platforms looking for inspiration for their future buys. By joining them and making available tempting impulse purchasing findings, you are providing a win-win solution for both sides.
Social commerce will let you build a deeper relationship with your customers. It allows you to learn about their shopping wish-lists, their interests, what they like and dislike about your products. It will help you improve your services and grow revenue in the process.