2020 might not have been the best year for businesses around the world, but in terms of technology and digital progress, it has been a push in the right direction. The surge in tech solutions development had a significant impact on digital marketing and SEO.
With the massive resources Google has been investing in improving machine learning and building more sophisticated Artificial Intelligence, it is making user experience and content quality the centerpieces of its policy.
Moreover, user experience now is not only about satisfying one's search intent but also about the loading speed and responsiveness of a page, its mobile-friendliness, its reliability and transparency.
Organic search is an invaluable asset for a brand's online presence and to be among the top-ranking positions in search results, businesses need to step up their game.
Yet, the rules of the SEO world are ever-changing ones. To stay relevant experts should listen closely to what Google is saying, read between the lines, and dig deeper into data reports to decipher the new updates.
Keyword research and data analytics remain at the center of building a successful SEO strategy in 2021. However, there is much more to be taken into account if your company wants to be in the top-ranking positions nowadays.
Read on to learn more about the top SEO trends in 2021 that have been designed to keep you on page one for the next 12 months and beyond!
1. Core Web Vitals Will Be Page Experience Signals
User experience is the centerpiece of all marketing trends in 2021.
In line with this, the fact that page experience signals are becoming one of Google's ranking indicators, is not a surprise. It might even be considered the top SEO trend of the year.
The changes will take full effect in May 2021, so website owners still have enough time to audit their pages' performance, find the issues, and fix them. Prompt actions should pay off in an improved user experience, and, hopefully, a top ranking in search results.
Google has provided a set of tools and detailed instructions to assist website owners in the process, so there cannot be any excuses for skipping website performance optimization.
But What Are Core Web Vitals?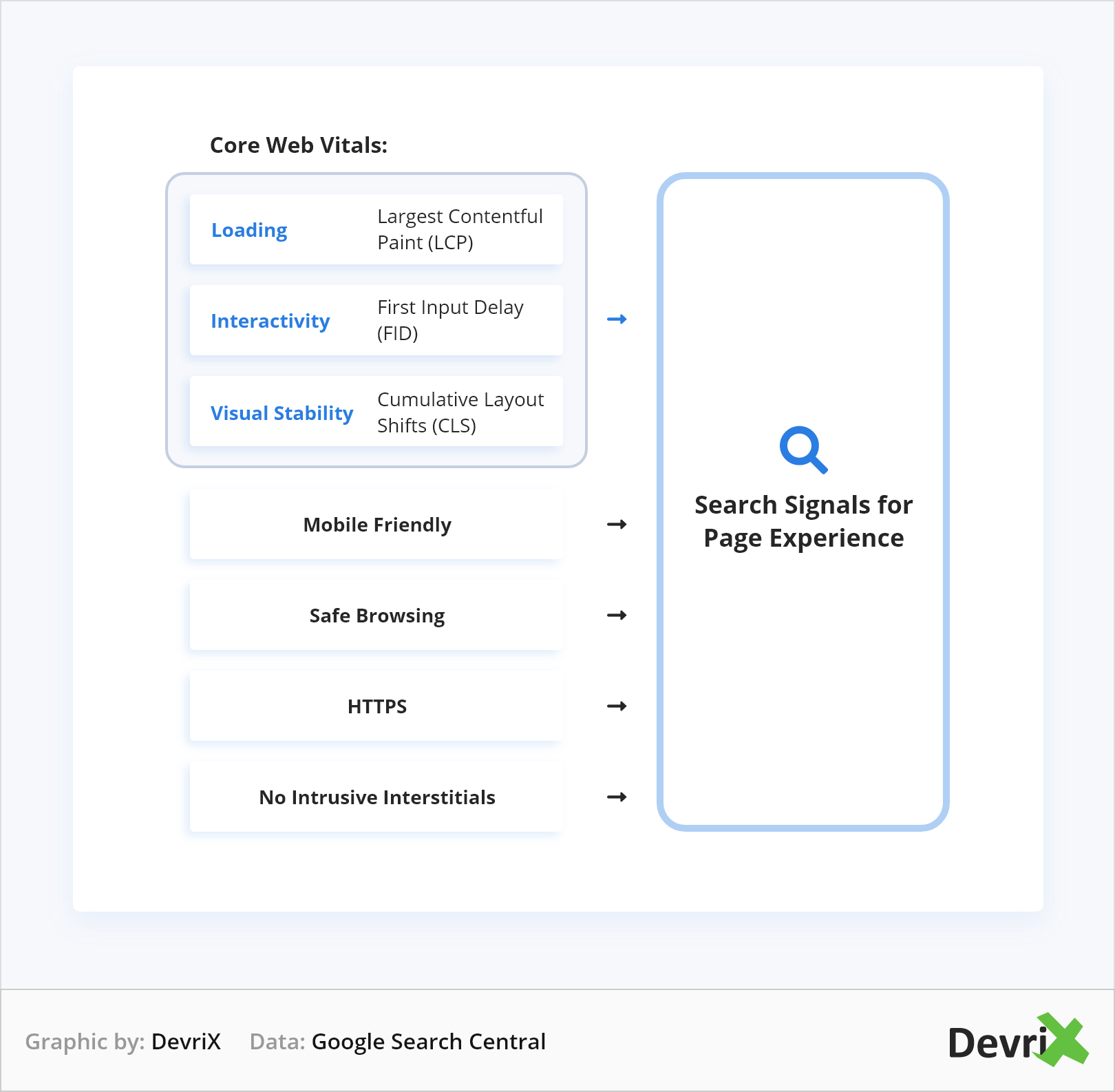 The Core Web Vitals are Loading, Interactivity, and Visual Stability.
Let's elaborate a little. In general, the Core Web Vitals evaluate your page's performance from a user's point of view. The focus here is speed and technical performance alone, as there are different algorithms responsible for evaluating content quality.
Loading or Largest Contentful Paint (LCP) indicates how quickly the majority of content on your page becomes visible to the user. According to Google's rules, scores above 2.5 seconds are considered unsatisfying.
Interactivity or First Input Delay (FID) measures how soon after the page loads content is available for user interaction. It should be less than 100 ms.
Visual Stability or Cumulative Layout Shift (CLS) checks if the elements of your page shift position while it's loading. If different blocks of information and ad positions are not stable enough, this might lead to confusion and a user miss-clicking (which may lead to getting a 2-click penalty from Google). So, the score here should be below 0.1.
To summarize, the main goal of Core Web Vitals is to make sure a website is optimized to be fast, efficient, and save users the frustration of waiting around endlessly to interact with content.
Google even plans to launch a visual badge indicating in search results which websites cover all bases, so users can have a more informed choice before clicking a link.
2. E-A-T Factors Are Not Reserved for YMYL Pages Alone Anymore
Now that Google is focusing on the technical side of user experience, it doesn't mean that they will pay less attention to content quality.
Exactly the opposite. The so-called E-A-T ranking factors, or Expertise, Authority, and Trustworthiness, have been of great significance for Google's website evaluation process in the last few years. However, now they are considered to be one of the most important factors.
So far the E-A-T qualities of a page were judged by real people and not Artificial Intelligence (AI), which made data processing time-consuming and impossible to be applied as a top-ranking factor in mass-search. But Google has been working hard on their machine learning technology and has been going to lengths to ensure the precision of search results and quality of user experience online. This leads us to believe that it won't be long before AI gets more involved in the quality assessment of a page's content.
As before, E-A-T factors will be most crucial for pages dealing with legal, financial, medical, and tax information, also known as "Your Money or Your Life" (YMYL) pages. Those are sensitive topics where real-life consequences are at play and Google cannot afford to take them lightly. To be shown in related search results, the content of pages related to these industries has to be written by qualified experts. At the same time, the websites publishing the information need to have quality backlinks, proving their reliability, and brands have to showcase authenticity and legitimacy.
Outside the YMYL circles, the rules still apply but with certain modifications to fit different business profiles and industry specifics.
It's a broad topic but, in a nutshell, if you publish content written by experts who know their stuff, have an immaculate online reputation in your industry, and run a transparent business, you should be on the safe side.
3. Mobile-First Index Becomes the Norm
When optimizing website content for Google search, it's okay if you sideline desktop after March 2021.
Google's Mobile-First Index is not news, but from this year it becomes the universal rule. Bots will crawl only the mobile versions of websites and search page results will display only content available there, regardless of what device the search is performed on.
Businesses whose websites are desktop optimized only will have to be quick to implement changes otherwise their content will not be visible on the SERPs and they will lose all organic search results.
For WordPress (WP) users, the prognosis is good, as most WP themes have responsive design and do not require designing a separate mobile version of the website.
Every website owner, however, needs to check if their theme is a responsive one, as this might not be the case with some older themes. An update with a more recent version should fix the issue. However, if there isn't one available and you do not wish to switch your theme over to a new responsive one, make sure to install a plugin to create a mobile version of your website.
To help businesses find out if their websites are good to go before the Mobile-First Index due date, and fix issues before it's too late, Google has set up a mobile-friendliness check-up tool you can find here.
4. Local SEO Is More Important Than Ever
If your business has an offline location, optimizing for local SEO is always a good idea. Also, since our society has been undergoing continuous lockdowns in almost every part of the world, local and "near me" searches are on the rise.
It's not only that people are stuck in one place and need to shop locally. It's more about communities that are willing to support their local businesses and help them survive the crisis.
Although everyone has been forced to do more online shopping than ever before, people prefer to check their near-by stores and services providers, and lend a hand in these uncertain times.
This makes a well-optimized Google My Business listing with accurate information vital under the circumstances. It allows customers to check for recent updates, working-time alterations, browse products, and find contacts for further information.
In the meantime, Google is going the extra mile to support small local businesses offering free tools to build a digital presence and grow starting companies. They also make it easier for customers to find local stores online, with the "nearby" filter on the shopping tab.
5. Contextual Links Are Making Their Way Into Featured Snippets
Last year Google started testing contextual links. They haven't yet confirmed whether the technology will last beyond the testing phase, but as it is still out there and it raises some questions in the SEO community.
Presuming you are not familiar with the trend, check out some of the featured snippets that appear in your search results. If you look closely, you will notice some words and phrases are now underlined. Sliding your mouse cursor over the link you'll see an overlay with information about the underlined part. This excerpt is derived from third-party pages, but not from the original website where the featured snippet is taken from.
Hmm. Not liking where this is headed. For the most part, Google is very careful with the content they're "repurposing" in AMP Stories. Here's an example where they've produced a Featured Snippet with content from other sites, with sources included. pic.twitter.com/JStaObCCGO

— Brodie Clark (@brodieseo) November 23, 2020
Google explains that the goal of the added content is to save the user the trouble of searching for potentially unfamiliar terms and names.
And here comes the uncertain part. First of all, we can't help but wonder, why would Google not want users to make additional searches?
Also, without any set rules, it is still uncertain how exactly to optimize for contextual links. One way could be to provide the internal links yourself in the content pieces you've optimized for featured snippets. However, as it is yet unknown how Google's algorithm selects the phrases to add contextual links to or the pages they lead towards, it is unclear whether such an approach will be successful.
For the owner of the featured-snippet, having contextual links leading to other websites might not be great and could make the victory of "winning" a featured-snippet a bitter-sweet one. If you are the third-party site from the link, however, this doesn't sound that bad. Right?
To sum it up, contextual links are still a gray area in SEO, which makes it even more important to keep an eye on them and stay in touch with Google's updates on the subject.
That said, featured snippets remain something worth optimizing for.
Ranking at position-zero in search results still puts websites one step ahead of the competition, and potentially sharing the spoils of this top-ranking place should not discourage SEO experts.
6. Passage-Results Are Now a Thing
Google is now ranking not only pages as a whole but excerpts of content as well.
Bots crawling a page will be digging deeper than just what an article is about, and will mark up the meaning of every passage of text.
This way when a user searches for a specific keyword the search engine will be able to provide an answer or definition extracted from any relevant article the bots have crawled, and not just the ones covering the topic alone.
Structured data and well-organized blog posts make it easier for bots to crawl and understand information. Providing clearly comprehensible headings and subheadings and putting article information in a logical order is now a predisposition for a better experience for both humans and bots.
Optimizing for passages will provide more opportunities for your content to shine and will increase the visibility of your page in organic results.
7. Image Search Is Evolving
With Google Lens hitting a benchmark of 500-million installs, and millennials craving a faster development of the technology, it's safe to say that visual searches will still be on the rise this year.
Furthermore, now that machine learning is advancing and spreading throughout all aspects of our lives we can expect the technology to undergo rapid development and become even more accurate and useful.
As we all know now, Google bots are learning to crawl images and this provides exciting new opportunities for content optimization. Tagging different objects on visuals with metadata will help the bots recognize them and display them in the results to relevant searches. The more meta-descriptions and tags an image has, the better its chances of getting featured become.
This has the potential to become especially profitable for eCommerce websites, although it has advantages for all businesses managing any kind of original visual content. Optimizing images and infographics on your pages might dramatically increase the visibility and discoverability of your content.
Adding structured data to pages with visuals is another must-try approach to boost organics search appearance. Images with schema markup show up as rich snippet results with additional information about price, customer reviews, product specifications, availability, etc. This can give them a significantly more advantageous position in search results compared to unmarked images.
8. NLP and Search Intent Will Be the Keys to a Better User Experience
People nowadays are using search engines to find quick answers and solutions. It's getting less likely that they will sit around contemplating the proper keywords that will deliver accurate results, and more probable they will rely on natural language search.
At the same time, machine learning is evolving faster than ever which makes it possible for search engines to understand more casual phrasing, decipher user search intent, and deliver relevant results.
With natural language processing improving, SERPs can now sync with the way people are actually searching for things. Users don't need to spend time guessing at keywords Artificial Intelligence (AI) would understand, but the other way around – AI is now trying to comprehend what people are saying.
Thanks to this, optimizing for user search intent with relevant long-tail keywords will be more important than ever. Researching and analyzing what customers are searching will provide insights into what they want to know and to what end, and will allow marketers to match pages' content to those preferences.
This will ultimately improve the user experience of a webpage and will determine its relevance and ranking in search results.
Recap
Focusing SEO efforts on user experience and building a trustworthy online brand presence will be vital for businesses in the foreseeable future.
Google updates will, no doubt, hold surprises and, as always, this will keep things interesting. But SEO is a fluid industry and strategies have to be adapted constantly in order to stay relevant.
However, what will remain a constant in Google's webpage quality evaluation criteria is the value of good content that answers the search intent of the user. Because providing accurate responses to user queries is, after all, the main purpose of every search engine.
Are you prepared to keep up with the latest trends in SEO? Share with us in the comments!